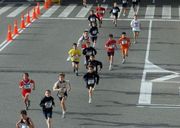 SUNDAY, March 21 -- Sports offer children and teens many health and social benefits, but parents and players also need to be aware of the risks, experts advise.
Each year in the United States, 715,000 high school sports-related injuries are reported, and every day 8,000 children are treated in emergency departments for sports-related injuries, according to the National Athletic Trainers' Association (NATA).
March is National Athletic Training Month, and this year's theme is "Sports Safety Is a Team Effort." NATA offers parents the following advice on how to reduce children's risk of sports-related injuries:
Children should be physically and mentally "in shape" for the sport/activity level. Parents can consult with coaches to help make this judgment.
All children should undergo a general medical exam and orthopedic screening to assess their readiness to play and detect any condition that may limit their participation.
Find out who will provide first aid if your child suffers an injury. Many schools and sports teams have athletic trainers or parents with medical and first aid training and certification.
Give coaches your child's medical history and a completed emergency medical authorization form that includes parent contact information and permission for emergency medical care for your child. Check with the school or sports league to obtain the form.
Make sure children eat a healthy, balanced diet and keep properly hydrated.
Check coaches' qualifications. They should have a background and knowledge in the sport they are coaching and should be credentialed if that's a requirement in the state, conference or league. They should also be trained in cardiopulmonary resuscitation (CPR), automated external defibrillator (AED) use and first aid. It is also important that they strictly enforce the rules of the sport and have a plan for dealing with emergencies.
Ask if the school/league has an emergency action plan that's been reviewed by the athletic trainer or local emergency medical service.