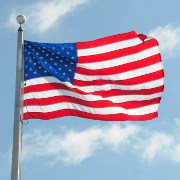 Photo: Getty Images
Just three days after posting an inspirational video on YouTube, Barry Galfano, the heroic NYPD captain who was among the first responders at the World Trade Center terrorist attack on September 11, 2001, died Sunday of cancer. He was 57.
Barry, a resident of Brentwood, Long Island and father of four and grandfather of one, was diagnosed with terminal brain, lung and liver cancer in 2008, reported the New York Daily News. He joined the NYPD Emergency Services Unit just three weeks before the attack.
"I knew the world had changed, and I was gonna be in the middle of it," he said of 9/11. "I was never that scared in my life. I didn't believe I would go home that night."
What he didn't know is that he would "receive a death sentence in another way."
Before joining the force, Barry was a biology teacher. He left that profession in 1981, he explained in the video, "because I didn't like sitting on a desk."
Barry's son Dan Galfano said his father was a "self-described life-long health nut" who enjoyed running. Even after his diagnosis, Barry continued to run in fund-raising charity events, though he was fighting cancer.
"After his first chemo treatment, he ran 3 miles on the treadmill, the same day," Dan said.
Dan told the Daily News his father initially hesitated to create the moving eight-minute video about his experience at Ground Zero, but ultimately was very proud of the final product. In addition to posting it on YouTube, the video entitled "In His Own Words" is also found on the website for the Captain's Endowment Association.
"They didn't give him long to live," Dan, 27, told the Daily News. "He battled for three years. He probably beat odds that 99 percent of people wouldn't be able to beat."
After the attack, Barry spent long hours where the 110-storied WTC Twin Towers once stood searching for victims. His family rarely saw him in the months that followed.
"He'd come home once a week to take a meal, and he'd be covered in soot," Dan said. Barry retired from the NYPD in 2006.
"He is a hero among heroes," Captains Endowment Association president Roy Richter said. "Barry left this world with honor, courage and determination, and fought to the end."
Lynette Summerill is an award-winning writer who lives in Scottsdale, Arizona. In addition to writing about cancer-related issues for EmpowHER, her work has been seen in newspapers and magazines around the world.
Edited by Alison Stanton