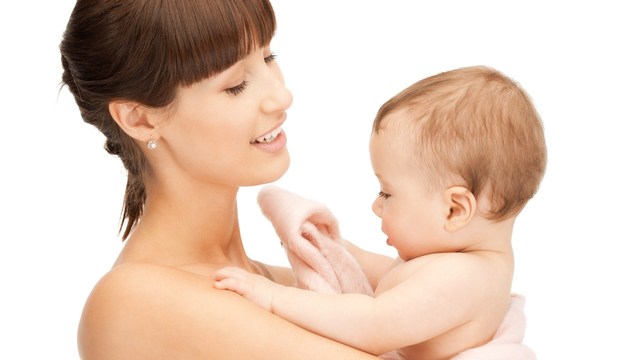 Lev Dolgachov/PhotoSpin
Skin-to-skin contact between premature infants and their mothers naturally sounds like a good way to increase mother-baby bonding. However, a recent study published in Biological Psychiatry has found that the benefits can be measured in those children 10 years later.
Dr. Ruth Feldman, a professor at Bar-IIan University, and her colleagues asked 73 mothers to provide skin-to-skin contact with their premature infants one hour a day for 14 consecutive days. They compared this group against another 73 infants who received standard incubator care.
Children were followed for the next 10 years of their life through tests performed during seven separate visits.
This skin-to-skin contact method has been called Kangaroo Care (KC), which originally was developed in Bogota, Columbia as a way to help keep premature babies warm. This region was so lacking in incubators that using the mothers to provide warmth was a practical intervention.
Researchers found that during the first six months, KC mothers showed more maternal behavior towards their infants and were more sensitive to their needs.
Children in the KC group showed better cognitive skills and abilities in activities that involved memory. These children also had better sleep patterns, responses to stress and cognitive control. This improvement continued to be evident in repeated testing starting when the children were six months and continuing until they were 10 years old.
"This study reminds us once again of the profound long-term consequences of maternal contact," commented Dr. John Krystal, editor of Biological Psychiatry in a EurekAlert! release.
"The enhanced level of stimulation provided by this contact seems to positively influence the development of the brain and to deepen the relationship between mother and child."
In another study reported on by Sciencedaily.com, Case Western Reserve University also researched the use of Kangaroo Care. Their research was carried out by Susan Ludington-Hoe, RN, CNM, PhD, FAAN.
Ludington-Hoe reported that the benefits of KC therapy are not widely promoted in hospitals despite the fact that KC has been found to be "essential therapy to promote growth and development of premature infants and their brain development."
Ludington-Hoe observed that babies respond more positively to mothers than their nurses. Premature infants show less pain and stress when their mother's held them for medical procedures. She found that infants brains mature faster and have better connectivity if they have received KC, versus not.
KC is widely practiced in Scandinavia and in the Netherlands. In Scandinavia and Germany preemies leave the hospitals about three weeks earlier than in the United States, which may be attributed to this standard activity.
Improving the care of premature infants is a major health concern worldwide. Approximately 12 percent of infants are born prematurely in industrial societies and this number is significantly greater in developing countries, reported Science.daily.com.
KC therapy has shown to have long-term impact in the lives of these premature infants and is inexpensive to implement. Adapting this practice in hospitals everywhere will benefit both mothers and children.
Sources:
Loving touch critical for premature infants. ScienceDaily. Retrieved March 29, 2014 from
http://www.sciencedaily.com/releases/2014/01/140106094437.htm
The loving touch is critical for premature infants. Public Release. Eurekalert.org. Retrieved March 29, 2014 from
http://www.eurekalert.org/pub_releases/2014-01/e-tlt010614.php
Feldman, Ruth et al. Maternal-Preterm Skin-to-Skin Contact Enhances Child Physiologic Organization and Cognitive Control Across the First 10 Years of Life. Biological Psychiatry, 2014; 75 (1): 56.
http://www.ncbi.nlm.nih.gov/pubmed/24094511
Kangaroo care' offers developmental benefits for premature newborns. ScienceDaily. Retrieved March 29, 2014 from
http://www.sciencedaily.com/releases/2013/07/130710155732.htm
Susan M. Ludington-Hoe. Kangaroo Care as a Neonatal Therapy. Newborn and Infant Nursing Reviews, 2013; 13 (2): 73 DOI: 10.1053/j.nainr.2013.03.004
Michele is an R.N. freelance writer with a special interest in woman's healthcare and quality of care issues. Other articles by Michele are at www.helium.com/users/487540/show_articles
Edited by Jody Smith