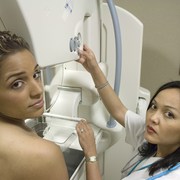 Newstock/PhotoSpin
Mammograms are an important screening test for women, especially those age 40 or older, and for women at any age who are at increased risk for breast cancer.
Mammography, the "gold standard" in breast cancer detection, is a low-dose X-ray exam of the breasts that can detect approximately 85 percent of all breast cancers, often before a lump can be felt.
Detecting breast cancer early — when it's most responsive to treatment — saves lives.
Let's be truthful here, nobody thinks the mammography experience is fun. Some women say it's uncomfortable, and for a small number of women it can be painful, especially those with large or dense breasts.
But don't let fear deter you from getting your annual exam. Here are 10 tips to help you sail through your next mammogram with ease.
Timing is everything
If you're premenopausal and experience breast tenderness or swelling a week prior to your menstrual period or the week after, schedule your appointment around that time. Most experts say the ideal time for the test is about 10 days from the start of your period.
Resist Caffeine
Set aside your caffeinated beverages for about a week before your next mammogram. Caffeine can cause breast tenderness (for example, if it's painful to hug). Opt for caffeine-free soft drinks, decaf coffee or herbal teas instead.
Hint: Some chocolates also contain caffeine.
Consider OTC Pain relievers
Over-the-counter pain relievers, such as Advil, Motrin, Tylenol, can help ease pain. It's best to take the pain reliever about one hour before the exam. For safety, be sure to talk to your doctor about taking any medications.
Hint: Read the label before taking any pain medication the week prior to your exam to be sure it doesn't contain caffeine.
Speak up
Don't be shy. During the test, tell the technician if you are experiencing pain. Something as easy as repositioning the breast can ease the discomfort. Foam pads may also be available for a small additional charge.
For women who find the test painfully unbearable, talk to your doctor about using a topical painkiller on the breasts a couple hours before mammography. The painkiller must be washed off at least one hour prior to the test as it can interfere with testing.
In one study, women who applied an OTC 4 percent lidocaine gel to their breasts before their mammograms reported significantly less pain during the test.
Relax
If you've never had a mammogram before you may be nervous. You should know the experience is different for each woman, and feeling any pain during a mammogram is less common than you might think, so relax!
Experts say if you're afraid of getting a mammogram you'll be tense and the feeling from every touch is exaggerated.
Hint: Bending your knees slightly during the test will help your whole body stay relaxed.
Go au naturel
On the day of the exam, don't wear deodorant, antiperspirant, talcum powder, perfume or oils. Some products have substances that can show up on the X-ray as white spots, and you don't want that.
These substances can interfere with test results and could mean you'll need a second mammogram. Consider taking your deodorant with you to apply after the test.
Wear separates to your exam
Since you will be required to undress to the waist It's a good idea to wear a two-piece outfit with a blouse or sweater. It is easier and faster to take off a blouse or sweater instead of removing a one-piece dress, especially since some facilities don't provide full-length cover-ups for patients.
Breathe
Mammography technicians suggest exhaling just as the compression begins to lessen the pinching feeling. Breathing out allows you to relax more than breathing in, which also seems to tighten muscles.
Just before the image is taken, breathe out and hold it for a couple of seconds before breathing in. This will help you hold steady and avoid needing retakes.
Be prepared
Radiologists look for changes in your breasts over time, and the capability to compare mammograms over the years is extremely helpful. If you are new to a facility or doctor, try to arrange for your previous mammograms to be sent to the facility before your appointment.
This simple step could help speed up test results and lower unnecessary anxiety.
What about those breast implants?
Breast implants can obscure mammography images decreasing the test's ability to find and detect breast cancer. With that said, studies show that mammography is still an effective screening test for women with breast implants. But you should do some things differently.
First, be upfront about the implants when scheduling the appointment as not all facilities have experience performing and reading mammograms of women with breast implants, according to the National Cancer Institute.
Then remind the staff that you have breast implants on the testing day so they can obtain special mammogram views in addition to the standard mammogram images to better evaluate your breast tissue.
What if I'm pregnant or breastfeeding?
Screening mammography (including digital mammography) should not be used in pregnant women, especially during the first trimester. Talk to your doctor if you notice a suspicious lump or changes in your breasts.
Many breast changes during pregnancy are normal, but it's best to tell your physicians when you see something that looks or feels different.
While you are breastfeeding, the tissue in your breasts may appear dense on a mammogram, making it hard to interpret. It's best to wait until you stop breastfeeding to get a routine screening mammogram. Discuss the best timing of your mammogram with your health care provider if you are due for screening.
Lynette Summerill is an award-winning writer and Scuba enthusiast living in San Diego with her husband and two beach loving dogs. Besides writing about cancer-related issues for EmpowHER, her work has been seen in newspapers and magazines around the world.
Sources and more information:
Fact Sheet: Mammograms. NCI. Accessed 15 October 2012 at:
http://www.cancer.gov/cancertopics/factsheet/detection/mammograms
"Pre-Mammography Painkiller May Ease the Pinch" Crystal Phend. MedPage Today. 22 July 2008. Accessed 15 Oct. 2012 at:
http://www.medpagetoday.com/HematologyOncology/BreastCancer/10207
Reviewed October 16, 2012
by Michele Blacksberg RN
Edited by Jody Smith