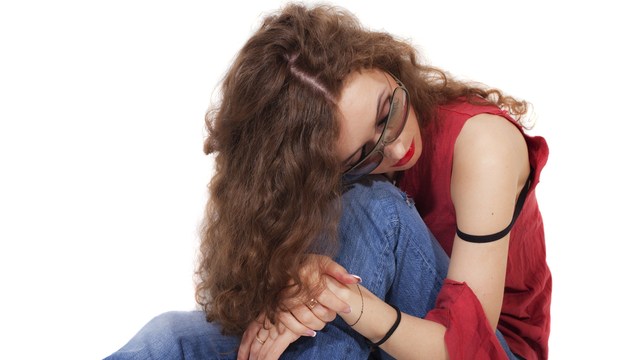 Igor Korionov/PhotoSpin
It may sound like a small thing when you are fighting for your life, but losing your hair due to breast cancer treatments can be soul-crushing.
Our hair plays a starring role in the way others view us and more importantly, the way we view ourselves, several studies show. The fact is, hair has deeply-rooted psychosocial implications — and the fallout can mess with your head.
Hair loss is symbolic.
Looking in the mirror can remind the cancer survivor of her (or his) diagnosis. Losing one's hair can be as traumatic for some people as losing a close friend or family member.
Hair loss is the one truly visible part of having cancer. It tells the world "Hey, I'm sick!" and that ever-present social stigma can further foster convincing inward emotions of "not feeling whole".
Like it or not, hair is also strongly associated with sexual attraction and the social norms of beauty the world over. That being the case, its loss can cause deep emotional issues such as added distress, low body image and self-esteem, anxiety and depression. Research shows that this is true in children and men, as well as women.
Dealing with chemo-induced hair loss is becoming increasingly recognized as a critical unmet need in oncology because self-image, cultural norms, and religious beliefs all affect how women cope with cancer and respond to its treatment.
"Cancer patients often feel hair loss not only changes how others view them, but how they view themselves," said Dr. Rose Weitz, a sociology professor at Arizona State University.
"Hair loss is not only more obvious, but it also takes away the part of the body that women associate with health, whereas mastectomies remove a part that the women have come to see as a source of disease."
Dr. Sara Hurvitz , an assistant clinical professor of hematology/oncology and director of the UCLA breast cancer program hopes to change the emotional toil of hair loss.
She and her research colleagues across the country have begun a clinical trial on a new device that may reduce or prevent the hair loss of patients receiving chemotherapy for breast cancer.
Hurvitz and colleagues are testing an apparatus called the DigniCap® System, that works by gradually cooling the patient's scalp to just above freezing while they are receiving chemotherapy drugs.
In addition to running clinical trials conducted at UCLA's Jonsson Comprehensive Cancer Center, they are also recruiting for trials at the University of California, San Francisco Helen Diller Family Comprehensive Cancer Center, Weill Cornell Breast Center and Beth Israel Medical Center's Comprehensive Cancer Center, both in New York City, and the Wake Forest University School of Medicine in Winston-Salem, NC.
When the temperature of the scalp is lowered, the blood vessels around the roots of the hair contract, or grow smaller. That cap's contraction reduces the blood flow to the hair follicles, so less of the drug can reach them.
"Normally the drug would damage the follicles and make the hair fall out. The reduced blood flow from the scalp cooling reduces the amount of drug that reaches the follicle, thus reducing or eliminating damage to the hair follicle and preserving the patient's hair," Hurvitz said.
Trial data from Europe and Asia has shown promising results. "Eight of ten women who used this system were able to retain their hair during breast cancer chemotherapy," she said, "and now that the FDA has approved it for trials in the United States we have high hopes for helping patients deal with the mental and emotional strain that comes with our treatment of their breast cancer."
Researchers hope to enroll 110 participants within the next few months under the FDA premarket approval process. Since the trial is non-randomized, all participants wanting to use the DigniCap® System will be able to do so, Hurvitz said.
To participate in the trial, patients must be at least 18 years old and have a documented diagnosis of Stage I or Stage II invasive breast cancer, and must plan to complete chemotherapy within six months of using standard chemotherapy regimens stipulated in the trial protocol.
Right now only early stage breast cancer patients are eligible for this trial. However "the system works for a much broader range of cancer patients," said Martin Waleij, CEO of the Swedish biotech firm Dignitana. Waleij hopes to complete the FDA approval process by 2015.
To enroll in the UCLA study, contact Monica Rocha or Lisette Martinez by calling 310-829-5471 or emailing [email protected]/ More information on the trial is available at http://clinicaltrials.gov/ct2/show/NCT01831024/
Lynette Summerill is an award-winning writer and watersports junkie who lives in San Diego with her husband and two beach loving dogs. In addition to writing about cancer-related issues for EmpowHER, her work has been seen in publications internationally.
Sources:
Rapunzel's Daughters: What Women's Hair Tells Us About Women's Lives. Rose Weitz, Ph.D. New York : Farrar, Straus and Giroux, 2004.
http://www.worldcat.org/title/rapunzels-daughters-what-womens-hair-tells-us-about-womens-lives
The Psychosocial Significance of Hair. Hair Foundation. Accessed 6 March 2013.
http://hairfoundation.org/hair-library/article-psychosocial-significance.htm
Meeting the Psychosocial Needs of Women with Breast Cancer. National Cancer Policy Board of the Institute of Medicine. Maria Hewitt, Roger Herdman, and Jimmie Holland, Editors. The National Academies Press, 2004, pp21. Open book online.
http://www.nap.edu/openbook.php?record_id=10909
Dr. Sara Hurvitz. 6 March 2014.
Martin Waleji. Dignitana 10 March 2014.
Device to Prevent Cancer Patient Hair Being Tested at UCLA. Press Release. Shaun Mason. 5 March 2014.
http://www.cancer.ucla.edu/Index.aspxpage=644&recordid=712&returnURL=%2Findex.aspx
Reviewed March 11, 2014
by Michele Blacksberg RN
Edited by Jody Smith