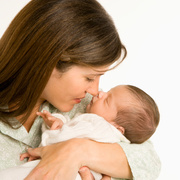 Ron Chapple Studios/Thinkstock
A baby's delivery weight is an important risk factor of infant mortality and childhood development disorders. That being the case, the prevailing wisdom has been that "bigger is better".
Now, researchers have determined baby's birth weight can also be an important determinate in the mother's own health later on.
New mothers who give birth to large babies are more likely to get breast cancer in the future, University of Texas Medical Branch at Galveston researchers found.
Researchers believe delivering a baby's whose birth weight is 8.25 pounds or larger increases the mother's hormone production, and as a result creates a kind of "cancer incubator" that favors future breast cancer and progression.
"This means that they [the mothers] have high levels of estrogen, low levels of anti-estrogen and the presence of free insulin-like growth factors associated with breast cancer development and progression," said lead author Dr. Radek Bukowski, professor of obstetrics and gynecology in the Division of Maternal-Fetal Medicine.
Dr. Bukowski suggested breastfeeding, having more than one child, following a healthy diet high in fruits, vegetables and grains and regularly exercising, have been generally shown to reduce overall breast cancer risk.
"Women can't alter their pregnancy hormones, but [they] can take steps to increase their general protection against breast cancer," he said.
Researchers have known that an association existed between giving birth to a chubby baby and the mother's future breast health.
Previous studies, such as the famous Framingham Offspring Birth History Study and others, have looked at generations of women and pointed to such correlations.
Approximately 7.6 percent of the women from the Framingham cohort, who also participated in this study, were later diagnosed with breast cancer.
But Dr. Bukowski and his team wanted to know if this association existed independent of other breast cancer risk factors, such as the mother's age, race, current weight, if she had ever used hormone replacement therapy or had diabetes.
In the Framingham study, the mother's own birth weight was found to be a determining factor.
Could the hormonal environment created during pregnancy be used as a determining factor in predicting a baby's birth weight, as well as the mother's health decades later?
Animal studies suggest breast stem cells involved in the development of breast cancer may increase or decrease in number depending on their hormone exposure, including those present during pregnancy.
"The stem cells retain its 'memory' of prior hormone exposure, which could explain the increased risk of breast cancer seen following pregnancy, especially in women with a large birth weight infant. The hormones create a long-term effect that may lead to breast cancer later," Dr. Bukowski said.
The researchers theorized that if study data found baby's birth weight to be an independent factor, they could be in a better position to understand the mechanisms that triggered breast tumors years down the road and thus, predict -- and possibly prevent -- future breast cancers.
It turns out mothers of high birth weight babies are at two-and-a-half times greater risk than women who gave birth to babies weighing less than 8.25 pounds.
More importantly, the researchers say, the risk was shown to be significantly independent of the birth weight of the mother and other traditional breast cancer risk factors.
Marie McCormick, a nurse practitioner at Community Cancer Center in North Florida, said this study helps support the ongoing effort for breast cancer by creating an new awareness of hormonal changes during pregnancy, and how that may affect a mother later on.
Based on the study's findings, McCormick, who was not associated with the study, recommendsed that all women know the history of pregnancies within their immediate families (mother, sisters or first relatives) and how often high birth weight babies have been delivered within your family.
Discuss these histories with your health care provider when talking about your family cancer history. This will help your provider determine if early screening is necessary or if you are a candidate for genetic testing.
It's unclear right now if a women increases her breast cancer risk with each consecutive high birth weight baby above and beyond her first, Dr. Bukowski said.
Additionally, more investigation is needed to definitively know if having a big baby and developing breast cancer later on is a cause-and-effect relationship. New research is now underway.
Another study by Dr. Bukowski and his team, published in the March 2012 edition of PLoS One found women who gave birth to small full-term babies have an increase drisk for future heart disease.
Dr. Bukowski said that beyond cancer and heart disease, yet perhaps just as significant, is that research now shows that what happens to a woman's body during pregnancy has a life-long effect, for better or worse, including the ability to initiate chronic disease decades later.
Lynette Summerill is an award-winning writer and Scuba enthusiast living in San Diego, CA with her husband and two beach loving dogs. In addition to writing about cancer-related issues for EmpowHER, she has produced work that has been seen in newspapers and magazines around the world.
Sources and Information:
Telephone interview with Dr. Radek Bukowski, professor, obstetrics and gynecology, Division of Maternal-Fetal Medicine, University of Texas Medical Branch, Galveston. August 6, 2012
Interview with Marie McCormick, CNP, Community Cancer Center of North Florida , an e+CancerCare facility, operator of best-in-class outpatient cancer care centers in the United States. August 6, 2012. For more information:
www.epluscancercare.com
Birth Weight, Breast Cancer and the Potential Mediating Hormonal Environment. Radek Bukowski, Rowan T. Chebows, Inger Thune, Annie-Sofie Furberg, Gary D. V, Hankins, Fergal D. Malone, Mary E. D'Alton. PLoS ONE, July 2012;7(7)e40199
http://www.ncbi.nlm.nih.gov/pubmed/22815728
Mothers who give birth to large infant at increased risk of breast cancer. University of Texas Medical Branch of Galveston. Olivia Goodman
http://www.eurekalert.org/pub_releases/2012-07/uotm-mwg071112.php
Delivery of a Small for Gestational Age Infant and Greater Maternal Risk if Ischemic Heart Disease. Bukowski R, Davis KE, Wilson PWF (2012) PLoS ONE 7(3): e33047. doi:10.1371/journal.pone.0033047. Online:
http://www.plosone.org/article/info%3Adoi%2F10.1371%2Fjournal.pone.0033047
Reviewed August 7, 2012
by Michele Blacksberg RN
Edited by Jody Smith