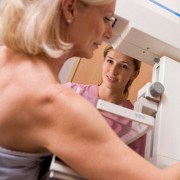 Photo: Getty Images
New guidelines by the American College of Obstetricians and Gynecologists (ACOG) state that women should have mammograms annually, starting at 40 years old, which is an update from their 2003 recommendation that state women can get mammograms every 1-2 years starting at 40 and then yearly at 50 years old.
This is important to know as small tumors detected on mammogram (but too small to be detected by breast exam) are often stage I and have a 95%, 5 year survival rate.
What about the breast exam? Ideally women should do monthly breast exams on themselves and have a yearly clinical breast exam (CBE) with their healthcare provider BEFORE their mammogram. Doing it before any imaging allows the provider to request additional imaging if a lump is found. Many women don't appreciate the importance of their provider performing the CBE too.
What should you watch for when doing a breast exam? First, do the exam around the same time every month, preferably just after your period ends when your breasts aren't as swollen or tender. Next, make sure to look for skin changes in the mirror, such as puckering or dimpling, that are new. As you are performing the exam, make sure to pay attention to lumps, bumps, and nipple changes. Then feel up into your lymph nodes in your armpit for swelling in there. If you find anything new, unusual, or concerning, call your healthcare provider right away.
What might you find? There are normal things that show up as lumps and bumps on an exam such as a cyst or fibroadenoma. A cyst is a fluid filled sac that is responsive to hormone changes and therefore, is often painful, especially just prior to your menses. A fibroadeoma is a lump made up of fibrous and glandular tissue. They are not generally painful but can feel very firm, which causes concern as breast cancers are often very firm or hard. Unfortunately, breast cancer is also a possibility when doing an exam.
What about the nipples? Nipples should both point outward however, if your nipple suddenly retracts, it is important you talk with your healthcare provider. Nipple discharge may be normal, especially if you are breastfeeding or were recently breastfeeding, however red, green, yellow, or black colored discharge is concerning.
At the end of the day, if you are concerned at all about your breasts, talk with your healthcare provider.
References:
1) ACOG Recommends Annual Mammograms Begin at 40
http://www.medscape.com/viewarticle/746754
2) Nipple Discharge
http://www.uptodate.com/contents/nipple-discharge?source=search_result&selectedTitle=3%7E93
3) Overview of Benign Breast Disease
http://www.uptodate.com/contents/overview-of-benign-breast-disease
Reviewed July 21, 2011
by Michele Blacksberg R.N.
Edited by Shannon Koehle