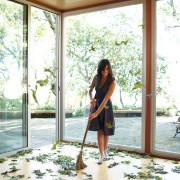 Photo: Getty Images
The path of recovery from a voracious illness like Chronic Fatigue Syndrome is uneven and sometimes hard to find. The more years you've been sick with CFS the more bewildering the recovery map -- or lack of one -- can be.
I forgot who I used to be in many ways. I had been this leaden CFS lump in a housecoat with bad hair for so long, memories of my former life seemed like stories about someone else.
I could hardly remember having energy with things to do, places to go. As I eventually began to rise up from under CFS, I had no clue as to how to get back to even a slim semblance of that again.
Not too long ago, I decided to get rid of some neglected piles in my house. I'm not talking about newspapers on the floor, or the basket overflowing with clean laundry. Not a mound of junk mail needing to be sorted and tossed before it takes over the table.
This stuff has been sitting abandoned for years.
I have a drawer full of paperwork that has not been touched in a decade. It holds bank statements and receipts for things paid for ten years ago.
Floppy discs. (Yes. Really.) Old music cassettes. Half-used coloring books.
This in a family where the kids' ages range from 21 to 29.
I have a closet that has five pairs of roller blades my kids haven't touched or thought of in a decade. Old decorations, forgotten jackets and scarves.
I think of this stuff as The Remains. I don't use this term lightly. It refers to what is left after life has departed.
The Remains have been squatting about my house since the day I dropped the ball, and could no longer think or function because the life was being squeezed out of me by Chronic Fatigue Syndrome.
Occasionally I've cast a furtive glimpse in their direction, thinking, I need to tackle those one day. But each time I knew that it would have to be some other day.
It wasn't their contents that made The Remains so overwhelming. They're rather like snapshots, in a way, stills of what was going on in my life up till the time my life stopped. It's just that from that time to this, I didn't have the brain power or ability required.
And so The Remains have accumulated additional debris and brought decay to what used to be a normal home. Like mold that is not addressed.
It's as if I'd returned after many years to a place I used to live, and commenced to tidy up.
No, I take that back. It isn't "as if" ...
I've been making my way home from the twilight world of Chronic Fatigue Syndrome, returning to what is left of my life. I've picked up the shovel I dropped so long ago. And I'm diggin' in.
I spent 15 years losing the battle against Chronic Fatigue Syndrome. Four years ago, I found treatment that worked for me, and now I am making a comeback.
http://www.ncubator.ca and http://ncubator.ca/blogger
Tags: