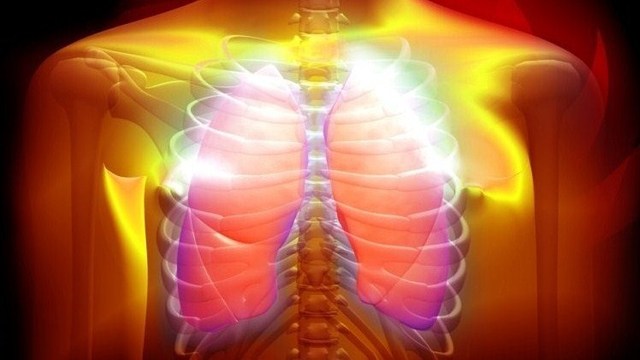 Hemera/Thinkstock
November is COPD Awareness Month. As the third leading cause of death in the United States having moved up from being the fourth leading cause, it deserves the attention.
In an interview with EmpowHER, Jane M. Martin, BA, LRT, CRT of the COPD Foundation said, "It is the only one in the top 10 causes that is on the rise. All the others are declining."
Martin is the Associate Director of Education for the COPD Foundation. She has worked in respiratory care for over 30 years.
COPD stands for chronic obstructive pulmonary disease. The COPD Foundation, with the assistance of a team of pulmonary experts, has defined COPD thusly:
"COPD, or Chronic Obstructive Pulmonary Disease, is an umbrella term used to describe progressive lung diseases including emphysema, chronic bronchitis, refractory (non-reversible) asthma, and some forms of bronchiectasis. This disease is characterized by increasing breathlessness."
Martin said that "in layman's terms, 'chronic' means that if you have the condition, you will always have it." Even during times when symptoms are not flared up, it's still there.
"Obstructive" refers to the fact that the sufferer in Martin's words, "has trouble getting air out, though it may actually feel like they're not getting enough air in. Their lungs get overexpanded and overinflated."
"Pulmonary" has to do with the lungs.
Chronic obstructive pulmonary disease is an umbrella term that includes emphysema, chronic bronchitis and chronic bronchiectasis (a disorder where lungs deal with excess phlegm that is caught in pockets that cause infection).
A genetic form of emphysema called alpha-1 antitrypsin deficiency causes a lack of protein that normally protects the lungs. The founder of the COPD Foundation has this condition.
Someone with alpha-1 antitrypsin deficiency can have flareups and not know they have the condition, often being misdiagnosed as having asthma. If you wonder whether this is the case for you, a simple blood test will uncover the condition.
Some of COPD's symptoms are coughing, breathlessness, sputum production and wheezing. Shortness of breath is the symptom that most often catch a person's attention.
COPD can often develop without the person being aware of it because symptoms generally appear and increase very slowly over time. Martin advises people to be aware of these warning signs.
"If you feel like you can't do what you used to do, don't brush it off with the conclusion that you're getting older, or that you are just out of shape. If you can't keep up with other people your age, take note."
There seems in some circles to be a stigma to having COPD. Sufferers can run into an unspoken -- or spoken! -- attitude that if you smoked, you've brought it on yourself.
This attitude may affect the amount and quality of care and concern that you receive from others. Some may be less sympathetic as they make assumptions about your personal habits and judge that you did it to yourself.
But COPD doesn't just affect smokers. It's important to know this because non-smokers may be under the impression that they can't get this disease. They could have COPD and not know it, and not even realize that it is possible.
Some smokers are more susceptible to COPD than others. Many people smoke and do not get COPD.
Getting side-tracked by whether or not someone smokes is missing the point. This is a debilitating illness. We don't know why one person has it and another does not, but we do know that everyone should get the best treatment possible for it.
There is no known cure for COPD but Martin emphasized that "the COPD Foundation is working toward a cure." Several treatments can alleviate symptoms.
Oxygen therapy is effective for those with COPD who also have oxygen insufficiency. This is the only treatment that also is seen to increase longevity in some patients.
Inhaled medications are another form of treatment. "Inhaled medications are being improved all the time," Martin said.
Pulmonary rehabilitation can make life easier. It is natural for many sufferers to be more sedentary due to shortness of breath, weakness and the depression that often accompanies COPD. This lack of activity only makes daily life harder, as muscles lose tone and life loses its luster.
Pulmonary rehabilitation helps patients to stay active, and educates them about their condition, enabling them to better manage their symptoms.
Martin urges everyone with concerns about COPD to go to the COPD Foundation website. She recommends checking out the pointers there on when to be tested.
"If you've smoked, have shortness of breath, if you have a COPD family history, or a chronic cough, consider spirometry testing." She believes that testing for COPD should be as routine as Pap tests, mammograms for women, and prostate exams for men. "It costs more to care for COPD than it does to be screened for it."
Martin wants you to know that "COPD is not a death sentence. Proper therapy can mean that you can live a full life."
She went on to say that "if you are involved in your own therapy, not just doing what you're told by your doctor or family members, you are headed in the right direction to optimize every aspect of your life."
If you have COPD, Martin encourages you to be as involved as you can with life. Consider writing your congressman, and becoming involved in the COPD community. Helping others can be beneficial for you too.
Jane M. Martin has written over 70 articles on COPD. She is the author of two books: "Live Your Life with COPD-52 Weeks of Health, Happiness and Hope" and "Breathe Better, Live in Wellness: Winning Your Battle Over Shortness of Breath".
Martin's book "Live Your Life with COPD-52 Weeks of Health, Happiness and Hope" is one of the educational materials used by the COPD Foundation's On Track with COPD Ongoing Support Program because it emphasizes effective COPD self-management over the long term. Managing COPD, even just living with it, can be overwhelming. There is a lot to learn. "Live Your Life" is unique because it focuses on just one aspect of COPD self-management per week, giving readers a chance to learn, internalize and use this information.
Sources:
What Is COPD?. NHLBI.NIH.gov. Retrieved Nov. 28, 2013.
http://www.nhlbi.nih.gov/health/health-topics/topics/copd
COPD. Mayoclinic.com. Retrieved Nov. 28, 2013.
http://www.mayoclinic.com/health/copd/DS00916
COPD Foundation. COPDfoundation.org. Retrieved Nov. 28, 2013.
http://www.copdfoundation.org/
What is COPD? COPDfoundation.org. Retrieved Nov. 28, 2013.
http://www.copdfoundation.org/What-is-COPD/Understanding-COPD/What-is-CO...
Visit Jody's website at http://www.ncubator.ca
Reviewed November 29, 2013
by Michele Blacksberg RN