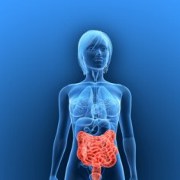 Photo: Getty Images
What's it like to have colitis? As with Crohn's disease, another serious disease of the digestive system, it can often interfere with your lifestyle, especially when a sudden inflammatory attack leads to severe cramps, abdominal pain, bloating and diarrhea.
Both colitis and Crohn's come under the heading of inflammatory bowel disease, or IBD.
Your doctor might diagnose ulcerative colitis, indeterminate colitis or microscopic colitis. The first condition means ulcers, or sores, have appeared in the lining of the rectum and colon, which can lead to serious problems.
Sometimes, though, it's hard to distinguish whether the IBD is ulcerative colitis or Crohn's disease, and your condition might get the name "indeterminate colitis."
The Mayo Clinic explained the difference between the two main IBD conditions as this:
Ulcerative colitis affects the most inner lining of the large intestine and rectum, with the inflammation occurring in continuous stretches of the colon.
With Crohn's, however, the inflammation occurs in patches and can spread to other digestive system tissue, including the small intestine, mouth, esophagus and stomach.
Microscopic colitis is a less severe form of IBD that is diagnosed during a colonoscopy from intestinal tissue that is examined under a microscope. An increase in white blood cells signals inflammation. Still, microscopic colitis can cause pain and discomfort.
Focusing on ulcerative colitis, it's important to note that with some patients, inflammation in the colon can bring on severe and prolonged diarrhea. It can be watery, high in volume, bloody or non-bloody; it can last for weeks or months without much respite.
Sometimes it's hard for patients to control bowel movements. Other possible symptoms include: anemia, fatigue, weight loss, loss of appetite, rectal bleeding, skin lesions and joint pain. About half of patients diagnosed with ulcerative colitis have mild symptoms, however.
The Mayo Clinic and other sites said that medical researchers are trying to pinpoint the causes of IBD -- it might be genetic, it might be related to the immune system -- and are generally increasing their understanding of it.
Treatment concentrates on bringing the diarrhea and pain under control through anti-inflammatory medications and on warding off IBD-related problems such as arthritis, bowel obstruction, liver disease and colon cancer.
According to the National Digestive Diseases Information Clearinghouse, ulcerative colitis can occur at any age but most often starts between the ages of 15 and 30. Inflammatory bowel disease appears to run in families and shows a higher incidence in Anglos and in those of Jewish descent.
About 25 to 40 percent of ulcerative colitis patients must eventually have their colons removed because of massive bleeding, severe illness, possible rupture of the colon, or risk of cancer, according to the NDDIC.
As for IBD's prevalence, the Mayo Clinic site stated that more than 1.5 million Americans have ulcerative colitis or Crohn's disease.
Fortunately, there are numerous support groups for IBD patients that you can find online or through medical centers. A good place to start might be the Crohn's and Colitis Foundation of America at ccfa.org.
Sources:
"Ulcerative Colitis." National Digestive Diseases Information Clearinghouse (NDDIC). Web. 26 Sept. 2011. http://digestive.niddk.nih.gov/ddiseases/pubs/colitis/index.aspx
"Microscopic Colitis: Collagenous Colitis and Lymphocytic Colitis." National Digestive Diseases Information Clearinghouse (NDDIC). Web. 26 Sept. 2011. http://digestive.niddk.nih.gov/ddiseases/pubs/microcolitis/index.aspx
"Ulcerative Colitis: Introduction." Johns Hopkins Medicine Gastroenterology & Hepatology. Web. 26 Sept. 2011.
http://www.hopkins-gi.org/GDL_Disease.aspx?CurrentUDV=31&GDL_Disease_ID=2A4995B2-DFA5-4954-B770-F1F5BAFED033&GDL_DC_ID=D03119D7-57A3-4890-A717-CF1E7426C8BA
"Inflammatory Bowel Disease: Overview." Mayo Clinic: Diseases & Treatments. mayoclinic.org. Web. 26 Sept. 2011.
http://www.mayoclinic.org/ibd
Reviewed September 27, 2011
by Michele Blackberg RN
Edited by Jody Smith