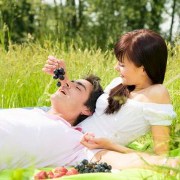 Photo: Getty Images
Colon cancer is still one of the most common cancer types, but it's also one of the easiest to prevent. The colon is accessible to minimally invasive surgery for precancerous polyps in colonoscopy procedures. In addition, both nutritional products and drugs can reach colon tissues even if they're not readily absorbed into the bloodstream.
In lab studies, resveratrol appears to be an excellent cancer fighter. Resveratrol is found in red grape skins and peanuts, and is widely available as a dietary supplement. Dr. Jairam Vanamala and collaborators at Colorado State University reported that resveratrol suppressed the growth of human colon cancer cells in cell cultures, even in the presence of insulin like growth factor-1 (IGF-1). This is important, the authors explained, because IGF-1 is elevated in obesity, and is believed to be the mechanism for the increased risk of colon cancer in obese individuals.
But how well does resveratrol work in real people? To answer this question, a group of researchers led by Dr. Ketan R. Patel of the University of Leicester, UK, studied a group of 20 patients diagnosed with colon cancer, based on tissue biopsy. These patients consumed resveratrol at a dose of 0.5 g or 1.0 g per day for eight days before their scheduled surgery to remove the cancer. Samples of normal and malignant cells were collected both before and after dosing. The initial samples were taken in the diagnostic colonoscopy, and the final samples were taken during resection surgery. These were analyzed for resveratrol and its metabolites.
The results indicated that these doses were sufficient to produce resveratrol levels in colon tissue in the same range as those studied in cell cultures in lab studies. In addition, researchers were able to measure a decrease in tumor cell proliferation by 5 percent after only eight days of dosing.
Resveratrol has been found to be safe at doses up to 5.0 g per day, but some individuals experience reversible diarrhea at higher doses. At 1.0 g per day, no adverse effects were noted. Patel and coauthors recommended further clinical studies of this popular dietary product.
References:
1. Vanamala J et al, "Resveratrol suppresses IGF-1 induced human colon cancer cell proliferation and elevates apoptosis via suppression of IGF-1R/Wnt and activation of p52 signaling pathways", BMC Cancer 2010; 10: 238-52.
2. Patel KR et al, "Clinical pharmacology of resveratrol and its metabolites in colorectal cancer patients", Cancer Res 2010 October 1; 70(19): 7392-99.
Linda Fugate is a scientist and writer in Austin, Texas. She has a Ph.D. in Physics and an M.S. in Macromolecular Science and Engineering. Her background includes academic and industrial research in materials science. She currently writes song lyrics and health articles.
Article edited by Alison Stanton
Tags: