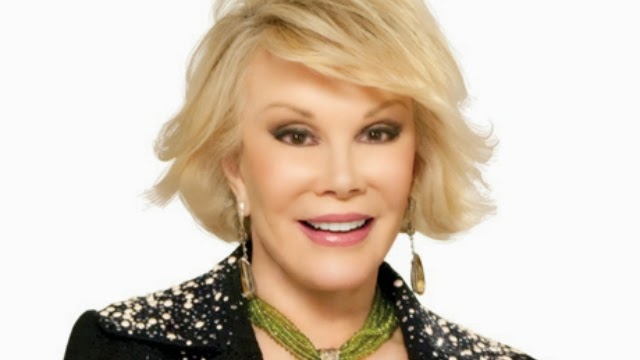 Photo Via: Wikipedia
Comedic icon Joan Rivers died at 81 today, her daughter Melissa Rivers announced in a statement.
"It is with great sadness that I announce the death of my mother, Joan Rivers," Melissa said. "She passed peacefully at 1:17 p.m. surrounded by family and close friends. My son and I would like to thank the doctors, nurses, and staff of Mount Sinai Hospital for the amazing care they provided for my mother."
Rivers went into cardiac arrest during a surgery on her vocal cords in New York on August 28. Shortly after she was rushed to the hospital and put in a medically induced coma, the New York Times said. Rivers was placed on life support on Tuesday, September 2, and was moved out of intensive care on Wednesday, September 3.
Rivers broke into the comedy scene in 1965 when she appeared on "The Tonight Show With Johnny Carson." She continued guest hosting on Carson's show and started writing for the show in the early '80s. When Rivers first began stand-up, men dominated the comedy scene. Her often controversial comedy routines helped pave the road for many women in the industry. Most recently she was a regular co-host on E!s "Fashion Police.
"My mother's greatest joy in life was to make people laugh," Melissa said in her statement. "Although that is difficult to do right now, I know her final wish would be that we return to laughing soon."
All user-generated information on this site is the opinion of its author only and is not a substitute for medical advice or treatment for any medical conditions. Members and guests are responsible for their own posts and the potential consequences of those posts detailed in our Terms of Service.
Tags: