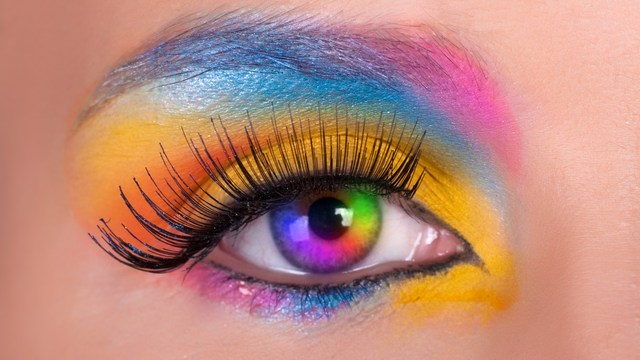 Makarov Alexander/PhotoSpin
The quest for longer fuller eyelashes has caused some women to draw more attention to their eyes than they bargained for. The glue used in eyelash extensions as well as the solvent used to remove them has been reported to cause allergic reactions and potential for eye infections, reported Consumer reports.org.
Eyelash extensions are single synthetic fibers that look like eyelashes. They are glued one by one to natural eyelashes.
The glue used to fix them in place is commonly formaldehyde-based, may have rubber latex or some other type of biologically acceptable glue. Allergies can occur from contact with these products.
Eyelash enhancements, such as adding small jewels or beaded toppings threaded on ultra-fine wire then glued to the eyelashes, is another risky eye embellishment. While they do look fanciful and fun, wearing anything that close to your eye really sets you up for an injury if your eye were to be scratched by any of these objects.
Even false eyelashes can cause trouble. Removing false eyelashes can pull on your natural ones causing them to thin. It is easy for women to get stuck in a cycle of feeling that they need to wear artificial eyelashes as their own start to look more sparse.
Excess traction on your eyelashes from either eyelash extension or false eyelash removal can cause traction alopecia, which can damage the hair follicle so the eyelashes do not grow back.
False eyelashes can also trap dirt and bacteria making eye more susceptible to irritation and infection.
"The American Academy of Ophthalmology (AAO) warns that among the potential dangers associated with cosmetic eyelash extensions and the adhesives used to apply them are infections of the cornea and eyelid, permanent or temporary loss of eyelashes, and eyelid swelling." (2)
If you decide you still want eyelash extensions, AAO suggests going only to a certified aesthetician, and watching that she uses good hand-washing technique, and asking about the ingredients in the adhesive glue.
Alternatively, ConsumerReports.org suggests that you just stick with mascara. Make sure you practice good handwashing before you apply it. Replace your mascara every three months. Never share mascara or add water to it, and stop using eye makeup totally if you notice signs of infection or irritation.
Remember, you only have two eyes. You don't want to take any risk that could damage either of them. See an eye care professional right away if you notice any signs of irritation that do not quickly resolve, infection symptoms, eye pain or vision difficulties .
Sources:
Eyelash extensions can pose health risks. The popular trend can cause allergic reactions, infections, and more. Consumer Reports.org. Retrieved May 28, 2013.
http://www.consumerreports.org/cro/2013/05/eyelash-extensions-can-pose-h...
Eyelash Extension Adhesives May Cause Bad Reactions. Infections and allergies from cosmetic procedure can damage eyes or cause swelling, loss of eyelashes. Healthday.com. May 28, 2013.
http://consumer.healthday.com/Article.asp?AID=676258
Use Eye Cosmetics Safely. U.S. Food and Drug Administration. FDA.gov. Retrieved May 28, 2013.
http://www.fda.gov/ForConsumers/ConsumerUpdates/ucm048943.htm
Ingredients in Eyelash Adhesive and Eyelash Glue. Technology and Gadgets online. Retrieved May 28, 2013.
http://www.xtremelashes.com/NC_eyelash_extensions_health_safety.aspx
Michele is an R.N. freelance writer with a special interest in woman's healthcare and quality of care issues. Other articles by Michele are at www.helium.com/users/487540/show_articles
Edited by Jody Smith