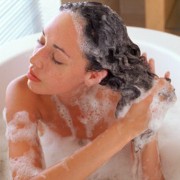 Photo: Getty Images
Dandruff is one of those annoying flaky problems that make you feel like you should avoid wearing black. Dandruff can be caused by a number of reasons: dry scalp skin from dry winter air, irritated oily skin (seborrheic dermatitis) or from not shampooing often enough so oil and flakes accumulate. Psoriasis and eczema can also cause increases in skin shedding and dandruff.
Another cause of dandruff is from a yeast/fungus called malassezia that becomes over grown and lives off the oil in your hair. As malassezia causes irritation to the scalp, the rate of cell sloughing increases from once a month to every two weeks or less and the extra shedded cells appear as dandruff. Treatment of dandruff does require some patience but the tips below should help.
1. Start with a basic anti-dandruff shampoo. If excess oil is the cause of your dandruff try washing your hair everyday but watch out for dryness, which can make it worse. Make sure to lather twice and leave the shampoo on for a full five minutes the second time to allow it to penetrate into your scalp. Once things are under control cut back to using the shampoos two to three times a week.
2. If more control is needed, try switching between 3 different shampoos. Use each one monthly then switch to the next to prevent your scalp from becoming too acclimatized to any one product. Different dandruff shampoos also combat different problems. Zinc pyrithione shampoos (such as Head and Shoulders) reduce fungus and bacteria. Salicylic acid shampoos (such as Denorex) act to scrub the scalp. Selenium sulfide shampoos (such as Selsun Blue) may also treat fungus and act to slow down the turn over of cells in your scalp.
3. Try a coal tar shampoo (such as Neutrogena T/Gel) or Ketoconazole (such as Nizoral) if using the other three shampoos doesn't help. Coal tar slows how fast scalp skin cells die off but care should be taken when using it as it can be irritating. Ketoconazole is a stronger anti-fungal shampoo that comes both as an over the counter product or prescription strength for more serious cases.
4. Make sure to condition after using dandruff shampoos as they can be drying, especially the salicylic acid ones. The coal tar shampoos also have a strong odor that may be offset by a nicer smelling conditioner.
5. Go easy on hair styling products. Use of hair gel, mousse and hair spray can increase the amount of oil that builds up in your hair. This can make you more susceptible to developing dandruff again, even after you have gotten it under control.
sources:
http://health.howstuffworks.com/skin-care/scalp-care/tips/home-remedies-for-dandruff.htm
http://www.mayoclinic.com/health/dandruff/DS00456/DSECTION=treatments%2Dand%2Ddrugs
Michele is an R.N. freelance writer with a special interest in woman's healthcare and quality of care issues. Other articles by Michele are at www.helium.com/users/487540/show_articles
Tags: