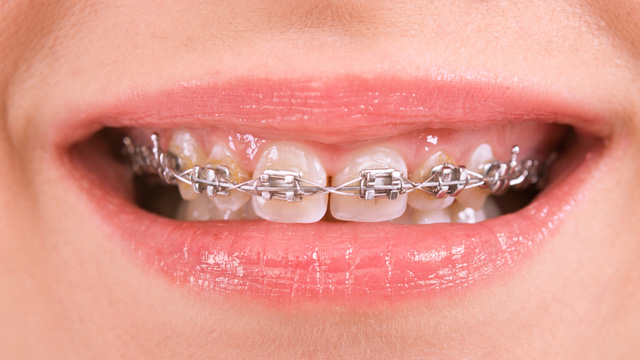 Nassyrov Ruslan/PhotoSpin
Poor dental health may lead to health problems. It can wreak havoc on not only your physical health but your emotional health and self-esteem as well.
Research "has shown chronic dental infections can be a source of inflammation that contributes to cardiovascular disease, stroke, and a number of other related diseases," according to the Huffington Post.
In addition, feeling self-conscious about your smile can change how you interact with people. Some people stop smiling with their teeth, cover their mouths or have a difficult time going out and socializing as a result of the appearance of their teeth.
About.com said "While an unattractive smile is not technically a 'dental problem,' it is considered a dental problem by people who are unhappy with their smile and it's also a major reason that many patients seek dental treatment. An unattractive smile can really lower a person's self-esteem."
Models with perfectly straight white teeth are found everywhere you look and dental offices promoting smile-perfecting methods such as braces, veneers and surgeries placing an increased focus on the importance of a smile.
A flawed smile is reason for some people to start feeling down about their appearance because they forget that every person is different.
Do you have a gap between your teeth? A crooked tooth? Look at the top fashion models in the world and you will notice that, they too, often have a "flawed" smile.
There are many ways to straighten teeth if your smile is causing you to have low self-esteem.
Braces are commonly used for teeth that are misaligned or crooked. Both the standard steel-colored and the more modern clear variety are popular choices. Brackets attached to a wire are placed on the teeth and as the wire is shortened, the teeth are moved into the desired position.
Invisalign is another option when it comes to straightening teeth. According to the product website, "the aligner trays are not only smooth and comfortable to wear, but they're also removable. That means you can continue doing all the things you normally would, from brushing and flossing, to eating whatever you like."
Regular visits to the dentist can also help raise your self-esteem. Knowing you have teeth that are free of cavities and are looked after by a dental professional will make you feel better about your smile. Even if teeth aren't perfectly straight, knowing your oral health is pristine can boost your confidence.
Having teeth that could be considered imperfect can be detrimental to your self-esteem. With proper care, you can feel confident about your smile.
Sources:
"Comfort & Convenience ." Invisalign Benefits: Straight Teeth, Comfort & Convenience |Invisalign. Invisalign, n.d. Web. 12 Apr. 2013.
http://www.invisalign.com/Why-Invisalign/Pages/Comfort-Convenience.aspx
Connelly, D.D.S., Thomas P. "Mouth Health: How Bad Teeth Can Affect Your Body." The Huffington Post. TheHuffingtonPost.com, 18 Dec. 2009. Web. 12 Apr. 2013.
http://www.huffingtonpost.com/thomas-p-connelly-dds/mouth-health-how-bad...
Davenport, Tammy. "Top 10 Common Dental Problems." About.com Dental Care. About.com, n.d. Web. 12 Apr. 2013.
http://dentistry.about.com/od/toothmouthconditions/tp/10-Common-Dental-P...