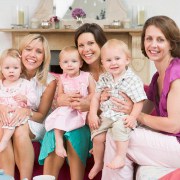 Photo: Getty Images
In our busy EmpowHER community forums, we recently had a member talk about her feelings of depression based in some part on being alone with her baby all day and not being able to take any breaks. Moderators and Guides (including me) suggested some hours of daycare or sharing childcare in a co-op nursery for free or a minimal charge that would lead to her own time away from childcare. Our member was very grateful for the help and is now checking into her options, especially having been reassured that it's not a bad thing to need a break and that her feelings are perfectly normal. We were all nodding our heads in understanding and empathy for her position. As the saying goes – parenting is the hardest job you'll ever love.
So I was interested to read a new Australian study that showed not only are these breaks good for mothers, they are good for the children of mothers with depression – who had fewer behavioral issues from just a few hours of daycare every week. Researchers from the University of Adelaide studied 450 women with recurrent depression and found that those whose children spent time in structured daycare felt better, as did their children (children with depressed mothers are more apt to have behavioral troubles).
Some issues with the study are that it didn't include single mothers and didn't discuss the financial cost of daycare. In our Community forum, we suggested that co-operative daycares are a good idea. These are structured but relaxed daycares where each parent donates her time to care for a group of children to give other parents a break, and other parents follow suit, allowing her a couple of days to herself. The cost is generally limited to snacks or other sundries and are usually less than one quarter of regular daycare. At-home parents who use co-ops or regular daycares have a very favorable response toward them, acknowledging they need the time off and their children enjoy the social aspects of a structured environment too. Parents also agree that it's a good way to expand their social lives and those of their kids.
Read more on this story on our Community Forum: https://www.empowher.com/community/share/stay-home-mom-depression?allcomments=yes
Tell Us
Have you used a daycare or co-op in order to get some valuable time off from the stresses of full-time parenting? Did it help with your depression or stress levels?
Tags: