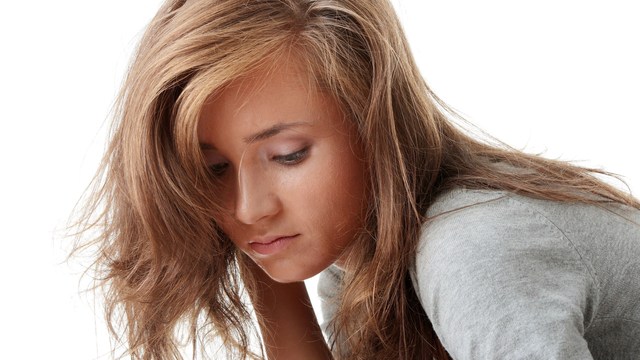 B-D-S/PhotoSpin
It was a shock and tragedy for comedy lovers when Robin Williams died on Monday, August 11, 2014. What was even more devastating was that he took his own life as an alleged result of his battle with depression and potentially a substance abuse disorder.
Despite this horrible set of circumstances, we may still find a silver lining. There is no better time to discuss the struggles of depression, suicide prevention and red flags to watch out for before it's too late.
This plethora of information could help save future lives.
When a woman already has depression, it's easy for friends and loved ones to acknowledge that fact and assume it won't get any worse. That is unfortunately not true.
Depression can change in severity, just like any mental illness or medical condition. So it's important to keep an eye especially on loved ones who are currently suffering from a mental illness. It could mean the difference between that person getting help and treatment, or potentially attempting suicide if life becomes unbearable.
There are certain risk factors and signs that a depressed woman may attempt suicide.
Ramani Durvasula, a licensed clinical psychologist and author of "You Are WHY You Eat: Change Your Food Attitude, Change Your Life," cautioned via email that although not every suicidal woman shares her thoughts with others, it is a major warning sign if a woman says out loud that she is contemplating suicide.
Here are eight potential risk factors for suicide (especially when noticed in a person who has a deepening depression):
1) "Talking about giving up"
2) "Putting her affairs into order"
3) "Alluding to harming herself"
4) Family history
5) "Past history of attempts"
6) Access to weapons, medication or drugs that could end her life
7) "Living alone and/or lack of social supports with whom she has regular contact"
8) History of mental illness
Durvasula also gave seven warning signs that depression is getting worse:
1) "The sad mood will get 'sadder,' and this may manifest by greater apathy (literally doesn't want or feel like she is able to do the things she needs or wants to do)."
2) "Greater social withdrawal."
3) "Inability to do the things that she needs to do. That can result in being unable to maintain a job or negatively impact her relationship or her parenting."
4) "Increased distractibility."
5) "Sleeping more."
6) "Often eating less."
7) "Thoughts of worthlessness that are expressed more often, feelings of guilt, and increased expressions of hopelessness and helplessness."
Durvasula wants to make it clear that most people with depression don't commit suicide, but if they don't get the help they need it could be more difficult to prevent this tragedy.
"I actually think in the so- called age of 'connection' of social media and other nonsense, we have never been more disconnected," she said. "We need to pay attention to the people around us. It is the only way we can notice changes in patterns, in how they relate and how they behave."
"Pay attention to those close to you and look for changes, such as changes in energy, social interaction, work behavior, self-care, and don't be shy to ask," she added.
Stacey Rosenfeld, a clinical psychologist and author of "Does Every Woman Have an Eating Disorder? Challenging Our Nation's Fixation with Food and Weight," shared six more red flags:
1) "Increased sadness or numbness"
2) "Avoidance of activity"
3) "Isolation"
4) "Lack of enjoyment in anything"
5) "Increased lethargy, including difficulty getting out of bed"
6) "Negative, pessimistic thinking indicative of hopelessness"
Rosenfeld said that even though most people with depression don't commit suicide, it's better to be overly cautious and concerned than to be silent if you notice changes or warning signs in a loved one. Always offer your help in these situations, including driving her to an appointment with a therapist.
"While some may get offended, many may appreciate the care and concern expressed by a loved one if it's expressed in a helpful, nonjudgmental way," she said.
It's also important to realize that treatment does take time to be effective. It's not always instantaneous, especially when it comes to finding the right medication.
If you or someone you know is suicidal, please call the National Suicide Prevention Lifeline at 1-800-273-8255 (1-800-273-TALK), or if you can't remember that in a crisis, just call 911.
Sources:
Durvasula, Ramani. Email interview. August 12, 2014.
http://www.doctor-ramani.com/index/about
Rosenfeld, Stacey. Email interview. August 13, 2014.
http://www.staceyrosenfeld.com
National Suicide Prevention Lifeline. Web. August 14, 2014.
http://www.suicidepreventionlifeline.org
Reviewed August 15, 2014
by Michele Blacksberg RN
Edited by Jody Smith