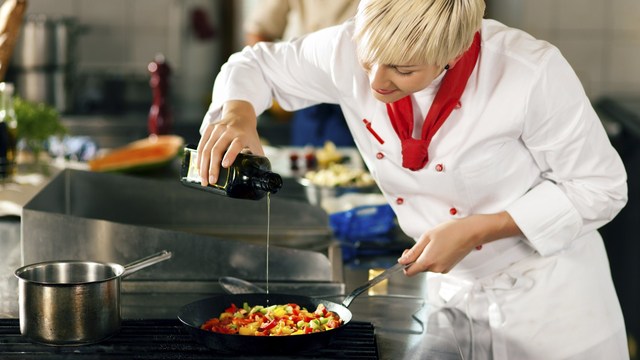 MonkeyBusiness Images/PhotoSpin
There are so many nutrition plans out there that promise big results in regards to weight loss and energy that it is hard to know which one to follow. Followers of the Paleo movement eat very differently than those who choose a vegan path, while gluten-free folks may find the suggestion of "eat more whole grains" difficult to fathom.
There are calorie counters, carbohydrate counters, unlimited plans that do not focus on calories, and food elimination plans. Regardless of which plan works best for your body, do not forget to eat your healthy fats. Your body needs them.
Back in the 1980s and 1990s, it was widely believed in the fitness and nutrition industry that fat was bad, which led to the boom of low-fat or no-fat foods. Suddenly everything from milk to yogurt, ice cream to cookies could magically be made "low fat" or "fat free."
Some fats are not good for you such as trans fats as these are synthetic. They are commonly found in hydrogenated oils. However other fats, such as saturated, monounsaturated, and polyunsaturated fats have a beneficial place in your diet in moderation.
Polyunsaturated oils come in two forms: omega-6 and omega-3 essential fatty acids. Typically, too much of omega-6 fatty acids can increase inflammation while omega-3 fatty acids are considered anti-inflammatory. However both in balance are necessary for health.
Omega-6 fats are found in soybean oil, corn oil, and safflower oil while omega-3 fats are found in foods such as walnuts, flaxseeds and fish (e.g., sardines, salmon, trout and herring).
Monounsaturated fats are commonly found in olive oil, seeds, and avocados, as well as nuts such as almonds, walnuts, hazelnuts, and macadamia nuts. These fats are helpful in lowering bad cholesterol, skin health, and improving brain function as the brain is made up of a lot of fat.
Within these types of fats, there are bad options and better options to choose from when creating a meal plan.
Saturated fat historically has received a bad rap in its connection with cardiovascular disease, however plant-based saturated fats such as that in organic unrefined coconut oil may be beneficial to health because of the medium-chain triglycerides (MCT) within.
MCTs are known to be used quickly by the body instead of stored, and may help with energy, brain function and metabolism.
Grass-fed free-range beef, while naturally high in saturated fat, is also high in omega-3s compared to grain-fed conventionally raised beef. When choosing steaks or hamburgers, make sure to look for the words "grass-fed" on the label or talk with the butcher at the meat counter for more information.
While healthy fats are a natural part of the human body, everything must be considered in moderation. Additionally, those with gall bladder issues should be careful when consuming a lot of fat (even good fats) as it can aggravate symptoms and may cause loose stools. Those with high cholesterol, specifically high LDL, should have their levels routinely measured.
Sources:
Centers for Disease Control and Prevention. (2012). Polyunsaturated Fats and Monounsaturated Fats. Retrieved from
http://www.cdc.gov/nutrition/everyone/basics/fat/unsaturatedfat.html
Scott, G. (2012). Is Coconut Oil Effective for Alzheimer Disease? Retrieved from
http://www.medscape.com/viewarticle/764495
Wenk, G. (2012). Dietary Fats that Improve Brain Function. Retrieved from
http://www.psychologytoday.com/blog/your-brain-food/201205/dietary-fats-improve-brain-function
Reviewed July 29, 2014
by Michele Blacksberg RN
Edited by Jody Smith