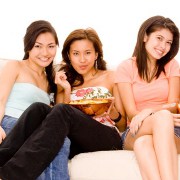 Photo: Getty Images
In an interview with Rachael Ray which is scheduled to run on February 2, 2012, the First Lady Michelle Obama said her favorite Super Bowl food was nachos.
Finding a heart healthy recipe for nachos isn't impossible. Here are a few tips for healthier nachos.
Use blue corn tortilla chips instead of the regular white corn chips. If you can, omit the cheese and sour cream on your nacho platter.
Make a fresh pico de gallo. This Mexican salsa is simple to make and uses only eight fresh ingredients.
Pico de Gallo Recipe
Ingredients
• 1 medium tomato, diced
• 1 onion, finely chopped
• 1/2 fresh jalapeno pepper, seeded and chopped
• 2 sprigs fresh cilantro, finely chopped
• 1 green onion, finely chopped
• 1/2 teaspoon garlic powder
• 1/8 teaspoon salt
• 1/8 teaspoon pepper
Directions
1. In a medium bowl, combine tomato, onion, jalapeno pepper (to taste), cilantro and green onion.
2. Season with garlic powder, salt and pepper.
3. Stir until evenly distributed.
4. Refrigerate for 30 minutes.
For those who are looking for additional heart healthy recipes for this Sunday, the "Forks over Knives" website provided several plant-based recipes. The following recipes are provided by "Forks over Knives" and Julieanna Hever, R.D.
These plant-based recipes are easy to make. For a filling Super Bowl meal, try the corn muffins and lentil chili.
Whole-Grain Corn Muffins
Ingredients
• 1 1/2 tablespoon ground flaxseed
• 1 cup unsweetened plain almond milk
• 1/2 cup unsweetened applesauce
• 1/2 cup 100 percent pure maple syrup
• 1 cup corn meal
• 1 cup oat flour
• 1 teaspoon baking soda
• 1 tsp. baking powder
• 1/2 teaspoon salt
• 1 cup frozen corn kernels, thawed
Directions
1. Preheat oven to 375°F.
2. In a small bowl, combine flaxseed with almond milk and set aside to allow it to gel for 5 minutes.
3. In a large mixing bowl, stir applesauce and maple syrup together and add in flaxseed/almond milk mixture. Then sift in corn meal, oat flour, baking soda, baking powder, and salt. Stir until well-combined, but avoid over-mixing. Add in the corn kernels.
4. Either using a silicone 12-cup muffin pan or a 12-cup muffin pan lined with paper, spoon out equal portions of batter into the cups.
5. Bake for 20 minutes or until toothpick comes out clean when inserted into the center. Serve warm.
Lentil Chili
Ingredients
• 1 1/2 cups yellow onion, chopped
• 1 1/2 cups celery, chopped
• 1 cup carrots, sliced
• 1 cup bell pepper, chopped
• 1-2 garlic cloves, minced
• 6 cups vegetable broth
• 1 1/2 tablespoon chili powder
• 1 teaspoon cumin
• 1 teaspoon paprika
• 1/2 teaspoon ground chipotle powder or smoked paprika
• 1/2 teaspoon cayenne pepper
• 2 cups green lentils, rinsed
• 1 (28-ounce) can crushed tomatoes
• 1 (15-ounce) can kidney beans
• zest and juice of 1 lime
Directions
1. In a large soup pot over medium-high heat, sauté onion, celery, carrots, bell pepper, and garlic in 1 cup of the vegetable broth. Stir occasionally and cook until vegetables soften, approximately 5-7 minutes.
2. Add chili powder, cumin, paprika, ground chipotle powder, and cayenne pepper and cook for an additional minute, stirring well.
3. Add lentils, crushed tomatoes, kidney beans, and remaining vegetable broth into the soup pot. Cover and bring to a boil. Cover and bring to a boil. Once boiling, reduce heat and simmer until lentils are soft, approximately 45 minutes, stirring occasionally.
4. When lentils are cooked, zest and juice lime into the chili and stir. Taste and add spice according to preference. Serve hot with Whole-Grain Corn Muffins.
The site also has recipes for Hearty Nachos, Roasted Red Pepper Hummus Tapenade, and BBQ Tofu "Wings."
Go to http://www.forksoverknives.com/recipes-for-super-bowl-xlvi/ for the above recipes.
References:
Forks Over Knives | Recipes for Super Bowl XLVI. Forks Over Knives | The Official Movie Website. Retrieved January 31, 2012, from http://www.forksoverknives.com/recipes-for-super-bowl-xlvi
Pico De Gallo Recipe - Allrecipes.com. Allrecipes.com - recipes, menus, meal ideas, food, and cooking tips. Retrieved January 31, 2012, from http://allrecipes.com/recipe/pico-de-gallo
Edited by Jody Smith