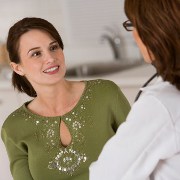 Photo: Getty Images
Ductal carcinoma in situ (DCIS) is a type of breast cancer that can occur in the lining of the milk ducts. "In situ" means "in its original place". DCIS is also known as intraductal carcinoma.
The milk ducts are tubes that carry milk through the breast to the nipple. Milk ducts connect the the nipple with the glands that produce milk in your breasts. These glands are known as mammary glands.
Milk is contained in the mammary glands' lobes, then passed via the milk ducts to the lactiferous sinus. This is an area that stores milk at the tip of the nipple until your hungry baby requires it. Milk ducts may also be called lactiferous ducts, galactophorous ducts or mammary ducts.
"In situ" also indicates that the cancer is non-invasive. This means that the cancer is contained within the ducts and hasn't spread to other parts of the body.
Ductal carcinoma in situ is the most common non-invasive breast cancer. The American Cancer Society has reported about 60,000 ductal carcinoma in situ cases in the United States annually. DCIS cases are about 20 percent, or about one in five, of all new breast cancers. Mammograms generally can discover DCIS in its early stages.
Cancer that is non-invasive now can become invasive later, so this is a situation that bears careful monitoring. Ductal carcinoma in situ is not a terminal condition but you will be at higher risk of invasive breast cancer in the future. You will be at greater risk for a return of DCIS or of developing a new cancer, often within 10 years of the original diagnosis. Recurring cancer happens in up to 30 percent of cases.
After diagnosis, your pathologist will want to examine the tissue sample for any areas of cancer cells that are dead or dying (tumor necrosis). A pathologist is a doctor who specializes in making diagnoses from tissue samples.
If your pathologist finds tumor necrosis in the tissue sample, this will indicate that the tumor is aggressive. In this instance, your health care provider may want to pursue treatment like a lumpectomy possibly accompanied by radiation, or mastectomy possibly followed by hormonal therapy. Chemotherapy is usually not necessary for ductal carcinoma in situ.
According to the Mayo Clinic, complementary and alternative (CAM) medicine treatments may make it easier for you to cope with DCIS, though there are no known CAM treatments that will cure the condition.
Meditation, massage and relaxation techniques may help deal with the anxiety. Hypnosis and music therapy can be calming. Tai chi and yoga have been found to be helpful in quieting the sympathetic nervous system (system of fight or flight) and enhancing the parasympathetic nervous system which powers rest and regeneration.
Sources:
Breast cancer. MedlinePlus. National Library of Medicine - National Institutes of Health. Web. August 11, 2011.
http://www.nlm.nih.gov/medlineplus/ency/article/000913.htm
DCIS - Ductal Carcinoma In Situ. Breastcancer.org. Web. August 11, 2011.
http://www.breastcancer.org/symptoms/types/dcis/
What Are Milk Ducts? Wisegeek.com. Web. August 11, 2011.
http://www.wisegeek.com/what-are-milk-ducts.htm
Treatment for DCIS. Breastcancer.org. Web. August 11, 2011.
http://www.breastcancer.org/symptoms/types/dcis/treatment.jsp
Alternative medicine. Mayoclinic.com. Web. August 11, 2011.
http://www.mayoclinic.com/health/dcis/DS00983/DSECTION=alternative-medicine
Reviewed August 11, 2011
by Michele Blacksberg R.N.
Visit Jody's website and blog at http://www.ncubator.ca and http://ncubator.ca/blogger
Tags: