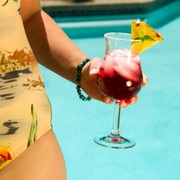 iStockphoto/Thinkstock
Summer is the time when families head outdoors for picnics, barbecues, family reunions, and all kinds of outdoor fun. One of the staples that nearly every family will bring with them is packaged ice.
Packaged ice is the kind one picks up in the grocery store, the convenience store or mass market store on the way to the good times.
This seemingly innocent product can carry salmonella, E. coli, and many other dangerous things if it hasn't been produced and stored properly. And this can lead to a number of illnesses, especially in the very young or very old, or those who already have a comprised immune system.
According to the National Center for Disease Control, "ice may become contaminated from the use of impure water, contamination of ice making machines, or from improper storage or handling of ice."
Many stores and even restaurants have sold patrons ice that was contaminated with bacteria like E. coli.
In 2006, ABC News ran a story with the headline "Fast Food Ice Dirtier than Toilet Water" which got many people talking and thinking about the cubes keeping their drinks cold.
Many stores that sell ice make their own ice in the back of their stores and may not follow the proper procedures for creating a safe product for consumers.
The International Packaged Ice Association (IPIA), a non-profit trade association of ice producers and suppliers that has been around for nearly 100 years, has set strict standards for product quality and safety for their members.
They stress the idea that ice is food and should be treated as such. While all bags of ice might look alike, they are not all created equal.
The IPIA has some tips to make sure that the ice consumers buy is safe and clean. These precautions can help to eliminate potential safety issues that have been found in some packaged ice products.
To ensure one's bag of ice is safe, the IPIA says it should have the following:
• Ice should be clear, odorless, and tasteless with no obvious physical contamination.
• The bag must be properly closed and secure without drawstring ties.
• The bag must be free of any foreign objects, particles, or dirt.
• The bag must have the manufacturer's name, address and phone number.
Moreover, if the bag has the IPIA logo, consumers can have a high level of confidence that the ice they will be consuming is safe and clean. IPIA members voluntarily have their plants scrutinized by independent auditors, follow strict guidelines, and maintain the best standards of food safety.
Since freezing does not kill bacteria or viruses, it is imperative that the ice one uses in their drinks or near their food, be safe.
Sources:
Packagedice.com. Web. 18 June 2012. "International Packaged Ice Association Releases Tips for Packaged Ice Safety."
http://www.packagedice.com
ABCnews.go.com. Web. Published 20 February 2006. "Fast food ice dirtier than toilet water."
http://abcnews.go.com/GMA/OnCall/story?id=1641825&page=1#.T9-NhhccBWw
Reviewed June 19, 2012
by Michele Blacksberg RN
Edited by Jody Smith
Tags: