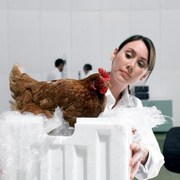 Michael Blann/Lifesize/Thinkstock
The New York Times is reporting on a small study that has shown almost half the samples of chicken examined contained e-coli.
The study, conducted by the Physicians Committee for Responsible Medicine, involved samples of raw chicken bought from supermarkets spread out over ten large U.S. cities. One hundred and twenty chickens were tested in total and 48 percent contained the bacteria e-coli.
E-coli can be deadly.
According to EmpowHER's E-coli page, most E. coli infections are caused by:
■ "Eating undercooked beef, especially ground beef
■ "Drinking contaminated water
■ "Drinking unpasteurized milk
■ "Working with cattle"
But eating chicken or other foods can also put a person at risk.
Symptoms of e-coli include cramps, diarrhea or bloody stool, vomiting, tiredness, fever and dehydration.
Most people will get better in 5-10 days. They rarely need a specific treatment. Avoid medicine that stops diarrhea. Drink plenty of water and fluids. Fluids through an IV line may be needed in cases of severe dehydration .
President Dr. Neal D. Bernard of the Physicians Committee for Responsible Medicine, noted that "... most consumers do not realize that feces are in the chicken products they purchase."
"Food labels discuss contamination as if it is simply the presence of bacteria, but people need to know that it means much more than that."
But the National Chicken Council disagrees with the findings in the study. They don't consider the Physicians Committee for Responsible Medicine to be a real medical group and noted that their study has yet to have a peer review.
They also believe that the vegetarian and vegan goals of the group may influence the results of the study. The Food Safety and Inspection Service of the Department of Agriculture responded by saying that the e-coli found in the study was not the kind to make humans ill.
Either way, EmpowHER suggests ways to avoid contamination:
■ "Cook all ground beef and hamburger thoroughly.
■ "Avoid eating undercooked hamburger or other ground beef.
■ "Keep raw meats separate from ready-to-eat foods.
■ "Wash hands, counters and utensils with hot, soapy water after they are exposed to raw meat.
■ "Drink only pasteurized milk, juice, and cider.
■ "Wash fruits and vegetables under running water.
■ "Drink municipal water that has been treated with a disinfectant, e.g., chlorine.
■ "Wash hands after bowel movements and after changing soiled diapers."
Tell Us
Do you wash everything you eat thoroughly? Even fruit of vegetables where the skin in removed before eating (bananas, for example)?
Do you worry about e-coli?
SOURCES:
EmpowHER.com. Escherichia coli Infection. Web. Thursday April 08, 2012.
https://www.empowher.com/media/reference/escherichia-coli-infection
The New York Times. Health. "48% of Chicken in Small Sample Has E. Coli". Web. Thursday, April 08, 2012.
http://www.nytimes.com/2012/04/12/health/in-small-sample-e-coli-found-in...
Nearly Half of Supermarket Chicken Tainted by Feces, Testing Finds.
Physicians Committee for Responsible Medicine. Web. Thursday April 08, 2012.
http://www.pcrm.org/media/news/nearly-half-supermarket-chicken-tainted-f...
Reviewed April 13, 2012
by Michele Blacksberg RN
Edited by Jody Smith