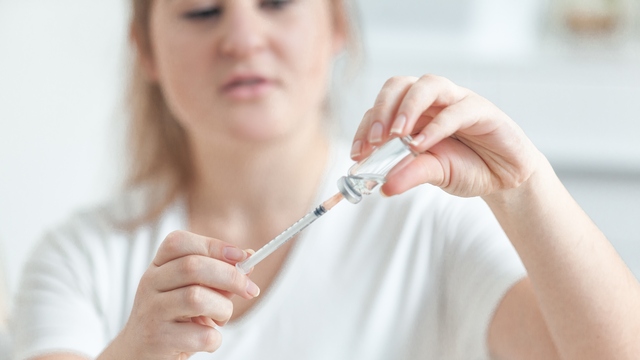 Kyrylo Ryzhov/PhotoSpin
Chances are you know someone with diabetes type 1 or the eating disorder bulimia nervosa. However, what's more uncommon is having both conditions at once, which has been coined "diabulimia."
Dr. Ovidio Bermudez, the chief medical officer and medical director of Child and Adolescent Services at the Eating Recovery Center explained in an email that diabulimia is a word used more among the general public. It's not a true diagnosis.
"The dual diagnosis of an eating disorder and type 1 diabetes is often referred to as 'diabulimia,' although this is not a medically recognized term and it is not an accurate description," Bermudez said.
The term used among health care professionals for diabulimia is ED-DMT1. Diabulimia or ED-DMT1 is diagnosed when a person intentionally misuses insulin to control weight.
This includes decreasing insulin intake, avoiding any insulin intake, waiting longer to take the right amount of insulin, or tampering with the insulin so it doesn't work properly.
When anyone with type 1 diabetes uses one of the above techniques to control weight, it can lead to high blood glucose levels, or hyperglycemia, as well as excretion of glucose in urine, which leads to weight loss.
This is considered to be a purging of calories.
However, the condition is complicated because a person diagnosed with ED-DMT1 may not even be diagnosed with bulimia or have typical symptoms, like self-induced vomiting or binge-eating.
A person suffering from diabulimia may only refrain from using insulin after an actual binge, or just after eating more than usual, as a way to purge the calories.
The symptoms of diabulimia can be pretty broad and include typical eating disorder behaviors, but some people have normal eating patterns and only manipulate the insulin.
Bermudez said that there are four major factors that can contribute to the development of an eating disorder in a person with type 1 diabetes:
1) Emphasis on food and diet restraint
Carbohydrate counting and meal planning are important parts of diabetes management, and this can create an unhealthy focus on food, numbers and control.
2) Weight gain
Weight gain can occur from starting insulin treatment, which can be uncomfortable physically and emotionally.
3) Psychological and emotional effects of having a chronic illness
There is no exact way to measure this impact, but depression is reported to be more common in individuals with diabetes compared to the general population.
4) Temptation factor
"Insulin manipulation is an effective, although dangerous, method of weight loss, which makes it difficult to resist if someone is struggling with eating disordered thoughts or poor body image."
Bermudez added that people with diabulimia may have typical disordered eating behaviors, such as frequently taking about weight, body image, exercise and food, as well as dieting, binge eating, rituals or abnormal behaviors around food, and refusing to eat in front of others.
However, there are five more signs of an eating disorder to watch out for with people who have type 1 diabetes.
1) Weight loss
"The most salient clinical sign of the dual diagnosis of ED-DMT1 is weight loss."
2) Poor blood-glucose control
"Another major sign is poor blood-glucose control, especially if the person previously had good control."
3) Hyperglycemia, ketonuria and diabetic ketoacidosis
People with type 1 diabetes who are deficient in insulin for long periods of time can suffer from not only hyperglycemia, but also other conditions, such as ketonuria and diabetic ketoacidosis.
Both of these conditions involve excessive amounts of ketones in the body, which are byproducts of fat breakdown.
4) Polydipsia, polyuria and polyphagia
"Symptoms can also include polydipsia (excessive thirst), polyuria (frequent urination) and polyphagia (increased hunger)."
5) Growth/development issues in teens, hypoglycemia and high hemoglobin A1c levels
Other symptoms include growth/development issues in teens, severe and recurrent episodes of hypoglycemia, and higher than normal hemoglobin A1c levels (a blood glucose level test used to help monitor diabetes).
So how common is diabulimia? Although it's hard to say for sure, there has been some research. Dr. Patricia Colton, a staff psychiatrist in the Eating Disorder Program at Toronto General Hospital has drawn some conclusions about its prevalence.
1) Eating disorders are more common for those with type 1 diabetes
"Eating disorders are more common in individuals with type 1 diabetes than in the general population," according to an article she co-authored in Diabetes Spectrum.
2) Girls with diabetes more likely to have eating disturbances
Colton also conducted a study of girls ages 9-14 with type 1 diabetes for the journal Diabetes Care in 2004. She found that compared to their non-diabetic counterparts, the girls with diabetes were much more likely to have eating disturbances.
Sources:
Bermudez, Ovidio. Email interview. December 22, 2014.
http://www.eatingrecoverycenter.com/medical-and-clinical-leadership/ovidio-bermudez-md-faap-fsahm-faed-ceds
Colton, Patricia; Rodin, Gary; Bergenstal, Richard and Parkin, Christopher. Diabetes Spectrum (Volume 22, Number 3). 2009. Eating Disorders and Diabetes: Introduction and Overview. Web. December 24, 2014.
http://spectrum.diabetesjournals.org/content/22/3/138.full.pdf
Colton, Patricia and Olmsted, Marion, et al. Diabetes Care. Disturbed Eating Behavior and Eating Disorders in Preteen and Early Teenage Girls With Type 1 Diabetes: A case-controlled study. Web. December 24, 2014. doi: 10.2337/diacare.27.7.1654 Diabetes Care July 2004 vol. 27 no. 7 1654-1659.
http://care.diabetesjournals.org/content/27/7/1654.abstract
Reviewed December 29, 2014
by Michele Blacksberg RN
Edited by Jody Smith