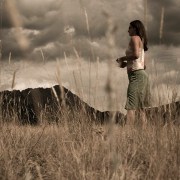 Photo: Getty Images
No one wants to live in regret of things they've said or done but, being human, it's really not possible to live completely without it either. Even those with the most pristine of earthly records-- no D.U.I.s, no divorce, no scandals or bad financial decisions, no cut off friendships or messy family issues--still have regrets about not being bold enough in their lives or not taking enough risks.
It never ends.
But when the line between having regretful musings and really living in regret most of the time is crossed, there is a black cloud that hangs over your daily life so that there is no longer a possibility of redeeming your past mistakes or letting go and moving forward.
Living in this deep level of regret makes every moment false, inauthentic. Your presence, after all, is required at this party called life and if you're constantly regretting things that could have been, you will not be available emotionally to appreciate what actually did happen, and what actually does happen in your life, every day.
While deep daily regret may require you to examine your life and its twists and turns, it can also be a wake up call for you to pick up your broken Legos and move on. No one said you would have a perfect life after all did they? If they did, it must have been all of their regret speaking on behalf of their genuine selves, projecting some fairy tale image onto you to live out the lack of regret they couldn't. Or something like that. Even with your broken Legos, you can still play, and maybe you can even fashion something out of them that brand new Legos would never be able to create.
Living in constant regret is a way of shutting life out, of shutting down. Our lives are meant to be rambling, rambunctious, wild things which we persistently groom and train, tame and tamper with to resemble something like our inner vision of what we could hope to feel fulfilled. We are part of nature after all, though we try like crazy to avoid these thoughts. Like nature, too, we can be wildly unpredictable and deeply tempestuous. We can, and should, learn from our mistakes as compassionate, thoughtful and moral people. But after the reflection and lessons are learned, we also need to get back to the business of life, storming and bringing out the sun again, weeping and rolling along.
Aimee Boyle is a regular contributor to EmpowHER. She is a special education teacher in CT.
Edited by Alison Stanton