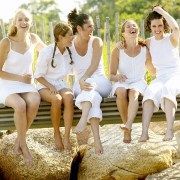 Photo: Getty Images
None of us is able to maintain a friendship for life without some bumps along the way. After all, a friend is someone who is a living, breathing, changing human being, not a blow up doll designed for us to sit around having tea parties with.
(no political subtext intended).
One of the ways in which we can keep our friendships alive and growing is to consistently seek to infuse "fun" into them. Friendships, over the long haul, similar to any long terms relationship, can become a bit dry at times or even emotionally draining. If we share a history of ups and downs, betrayals and hurt feelings, fights a and make ups, it can be particularly so.
Remembering to have fun with our friends is crucial and that fun begins with real support. "I'm on your side, your team" is a phrase which should come up often in your mind with regard to your friends. Especially for women, the competitive edge of "one upwomanship" and showing off a better figure, relationship, mothering style, handbag or career can really take its toll. Competitive edges can turn sharp and hard, leaving a woman to wonder "With friends like these, who needs enemies?"
Having fun with your friends can mean being down and dirty, and physically involved, especially in the hotter months. Go to a water park with your friends and splash around; we tend to think as adults that our version of fun should look almost cardboard. We should drink fancy drinks and lay in the sun giggling but not actually throw water at each other or have a race. Everything from dancing together to singing karaoke, swimming and hiking, biking and taking a class in something together - you can and should learn a way to really have fun with your friends so that they are more than friendships, they are 'fun' ships too.
We want to be there for our friends when times are difficult but without becoming too emotional about things all the time, we also want to be there for our friends to lighten their emotional load, take some of the weight off, splash around and have a good time.
You're never too old for fun with friends!
Aimee Boyle is a regular contributor to EmpowHER. She lives on the shoreline of CT.
Edited by Alison Stanton