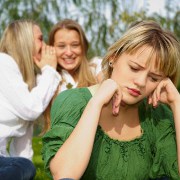 Photo: Getty Images
Like any good, insecure high school girl, I too wanted to feel I belonged. It is during these tender teen years that we begin to form our identities as separate from those of our parents and families, and begin to test out our confidence in the cold waters of the world.
Swimming away in a hyper verbal, exquisitely sensitive girl environment, we often cling to negative bonding as one way of feeling better about ourselves. Truly, all "isms" are derived from this futile, immature and destructive exercise. She is not wearing designer jeans. He has acne. Her voice is weird. He walks with a turned-in toe... the list goes on and on and gets uglier by the nano second.
But the truth is, no matter how much negative bonding you do - and to redefine what I mean by negative bonding, I mean that you actually bond with another human being by being negative about someone or thing, you cannot actually count on those you do negative bonding with for real, authentic friendship.
In fact, some of the most popular people in high school often have few close friends as they enter college and life beyond, having lost out on the chance to forge meaningful bonds with others that went beyond gossip, backstabbing, verbal bashing and catty, snide commenting.
In the workplace, it is often shocking that the level of gossip can reach such epic proportions and that perfectly full grown and otherwise intelligent human beings can actually cause physical, psychological and emotional pain to one another and not even think twice about it.
When the people who engage in this behavior are also your superiors and have the ability to influence the way people view you as a professional, your disbelief about the toxicity of your situation may actually leave you paralyzed and incredulous.
The sad fact is that the same people who will bond with you negatively over someone or something and also bring in cake for celebrating things, may actually be someone who is saying those very same negative things about you or someone you really care for.
Gossiping, though we would love to feel it puts us out of harm's way if we create a wall of "us" vs. "them" is truly NOT the same as friendship. In fact, friendship, when it's real, is often quiet, sometimes silent. The talking is less full of adrenaline and self righteousness, the content less edgy and softer.
When someone is a real friend and not just another terrified negative bonder, they want to provide you with support, not just have their vision validated. In fact they may disagree with you completely about your perspective on a person or situation; and that's ok - in fact - it's great as it means this person wants to know you and have you know them and isn't simply interested in a bash party.
While a certain amount of venting is natural, be careful of the level of trust you allow in every area of your life, and ask yourself if the words you hear and say are the ones you really believe.
Aimee Boyle is a regular contributor to EmpowHER. She lives with her family in CT.