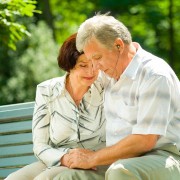 Photo: Getty Images
Music is a wonderful activity for a person to share with a family member that is suffering with Alzheimer's disease or another form of dementia. Music can be soothing, and like Alzheimer's, takes us back to a memory that we associate with another time in our life.
As a young girl growing up (I'm now 61), I always loved the soulful sounds of Ella Fitzgerald, Morgana King, Cleo Laine, Shirley Bassey and Etta James. Each of these great artists recorded a song that triggers a memory of an event or person in my earlier life when I hear it.
My father has been gone since 1984, and when I feel that my memory of him is not as crisp as I would like it to be, I listen to Frank Sinatra (the early years) or Glenn Miller. As I write this I am listening to Moonlight Serenade with tears overflowing. I see that handsome young soldier dancing with the beautiful young woman with the flower in her hair. I will have that picture in my mind forever.
With Valentine's Day rapidly approaching, I have a wonderful memory of my parents dancing in the kitchen of our home with my dad singing "My Funny Valentine" to my mom. Music truly soothes the soul and takes us back!