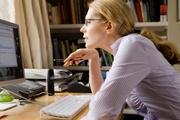 Photo: Getty Images
If you're tired of the bar scene, or never liked the bar scene to begin with; if you've had no success meeting Mr. Perfect in the frozen foods section of your supermarket; if you're newly single, separated, divorced or widowed and wanted to search for that special someone, there is a 21st century solution – online dating.
But with 21st century ideas come 21st century issues.
We've all heard the stories of someone meeting their soulmate online and how happy they are, yada yada yada. For some it happened relatively quickly. For others it took a little longer. Others are not quite as lucky. Instead of an exciting, safe way to meet others, online dating exposes hopefuls to a new age of crime.
Online Dating Scammers
Many of those looking to find a date through online dating sites are coming out of another relationship and just want to find someone compatible with the same likes and interests. What many must first wade through, though, are the seemingly never-ending queries, winks, nudges, emails and instant messages from those whom you'd never want to meet in your wildest daydreams. The thing is, they try to make themselves look like the perfect guy.
These guys are more than likely sitting in an internet café somewhere. Some are very skillful at crafting an online persona complete with pictures, but their goal isn't love. Their goal is to say what you want to hear so that you will "fall in love" with the person they've created. About the time the phrase "too good to be true" might be ringing in your head they'll hit you with reality--the person you thought you were corresponding with, the person you though you "fell in love with" really only wants your money.
Scammer Radar
Here are a few signs to look to keep yourself safe in this next generation of dating.
1) Remain wary of those profiles without pictures. Private pictures are okay (I will give a list of questions to ask to help weed out whether or not you should even ask to see those private pictures in my next article).
2) Read the profile very carefully. Watch out for phrases like "I will like to meet you" or strings of adjectives that seem to go on forever ("looking for beautiful, caring, loving, God fearing, genuine, spontaneous…") or other statements that seem to not make sense or go around in circles. This is a sign that the person may not be who he claims to be. If a person claims to be well-educated, broken English, poor sentence structure, and spelling errors are a dead give-away of a fake profile and probable scammer.
3) Read the height/weight and other attributes provided and compare it with the picture. If the picture is clearly of an older, heavier set man, but the profile says that he's 35 and weighs under 100 lbs… you know there's something fishy going on.
4) Most online dating sites give you a chance to see who has viewed your profile. If you receive a message, wink, or other contact from someone who has not viewed your profile, do not respond. Check to see if they've viewed your profile even before you visit theirs, otherwise they will receive notification that you have viewed their profile and will think you're interested in them.
5) Beware of generic answers or answers to "about them" questions that appear to read like an encyclopedia --for example, "I study Bio-Engineering at X University. A bio-engineer does…." Someone who's really spent the money on such a course would probably use proper grammar to start, and be more specific about what they do as opposed to what a bio-engineer does. This is something you can pounce on if he ever tries to contact you, but we will deal with that in the next article.
6) Beware of messages from people asking you to, relatively soon into the communication process, contact them off-list at an email address. Until you're absolutely positive the person you're corresponding with is real keep the communication on the dating site. Beware of profiles that list an email address in their details. Most online dating sites prohibit this, but sometimes they sneak through.
7) There is no such thing as Basic Traveling Allowance. This is an allowance that some will claim needs to be paid in cash before they can leave the country, which they have to do rather urgently. If anyone ever asks you to send money because their daughter has suddenly become very ill, or they've lost all their credit cards and are on vacation, don't believe it. It's a scam.
These are just a couple of ways to determine the real guys from the fake guys out there. In all fairness, the person in the picture probably has no idea that their picture is being used to perpetrate this scheme. That's another sad aspect of this. This scheme has two victims: you and the person in the picture. But until someone invents a way to trace where pictures were copied and pasted from (perhaps someone's online photo album), that person will probably never know their face has been hijacked.