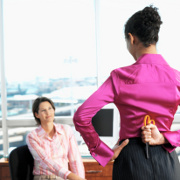 Photo: Getty Images
It's an oldie but a goodie, that term "passive aggressive", but really, what does it mean and what is the impact of this on your life?
In thinking about it, I feel it's like a sneak attack. It's when someone will almost never confront, but will often sabotage by "getting you" somehow when you least expect it. Employees can be passive aggressive--stealing things, gossiping, somehow letting out the negative energy of feeling mistreated or the anger of being underpaid and overworked by acting out in small ways, anonymous ways, non-confrontational ways.
Women sometimes utilize the tricks of passive aggression to express anger and rage. It seems historically less socially acceptable for a woman to get into a bar brawl or a street fight so typically, women will use language and psychology to battle and sometimes destroy or defeat their opponents.
Which has its place, don't get me wrong.
But the insidious nature of being passive aggressive is that you never quite resolve your anger. Instead, it lingers with you like a hangover and can go on for years. By refusing to confront things, so many people can bottle up their true feelings in a work situation, a marriage, or a friendship that the essence of the bond that drew you together in the first place becomes seriously compromised if not eroded. We are social beings with very firm "norms" in place (actually these are shifting even as we speak, but still) so it's tough for us to always know which battles to pick, when to confront, and when to let things slide.
And, on another level, sometimes we think it best to just work on our anger with ourselves, finding that place in ourselves where we can just "let it go," not be troubled by it any longer, needing no confrontation or passive aggression, just a simple egress back into a calm, semi-detached state.
I will argue that if it's a choice between confronting, letting go, or being passive aggressive, choose either confronting or letting go. Passive aggression almost never solves anything - in fact, if you're acting this way around someone savvy enough to pick up on it quickly, it can do far more damage and much more quickly than if you had just calmly said the truth.
Passive aggression has a sort of sneaking around behind someone's back quality that really makes people crazy with fury.
The old expression, "If you have something to say, say it to my face" is all about this. No one wants anger and confrontation but most of us would like the truth from the source as opposed to the passive aggressive runaround of hearing about our failures from three uninvolved parties.
If honesty is not possible due to fear, inappropriateness of the situation, or actual danger, than write about it in your journal and talk to your friends and family, and work on letting it go.
Being passive aggressive will come to haunt you in the end, making you angrier than ever and changing nothing.
Aimee Boyle lives and writes on the shoreline of CT. She is a regular contributor to EmpowHER.
Edited by Alison Stanton