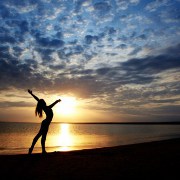 Photo: Getty Images
Happy Independence Day America!
By the way, how is your personal independence coming along? This is as good a time of the year as any to check into your relationship and independence feelings. Relationships, after all, are nothing more than a dance between your dependence, independence, and caring for a dependent. The tangled mess of confusion we all experience now and again with regard to who is dependent and who is independent and how much can cause so much grief and heartache its a wonder we keep trying. But we do, and for good reason.
We all have imagery that empowers us; for many women the image of being completely independent sets off a string of fantasies which lead us right to the White House, or, better yet, a power boat and a fresh pail of lobsters. For some of us, independence means financial independence; that we earn and spend our own money without relying on parents, friends, family or significant others to foot out bills. For others of us, independence means independence from expectations; that we are free and clear to marry whom we choose, love whom we will, and have as many or as few children as we see fit.
Within relationships, the delicate dance of independence can drive us crazy. We want to go out with our friends every weekend but want to control our honey so they are waiting for us the moment we arrive at home. Our kids are our responsibility but we don't want them to depend on us too much - we want them to do exactly as we say yet somehow also develop skills which will enable them not to need us so much anymore as they mature. How this is supposed to really work is honestly a feat of emotional contortionism similar to something you might find in Cirque du Soleil.
While there are no easy answers when it comes to the question of independence, it may be worth your while to check in with yourself and get a read on what's going on.
Are you sure of what independence really means to you?
Is a certain amount of dependence interesting, or even important in sustaining a relationship with a loved one, boss, family member or friend?
Can you manage the changing needs of yourself and others when it comes to independence? Can you love people (including your children) and still let them go?
As the fireworks sparkle around you this year, perhaps you'll feel that these questions lead to others you are fascinated to find out about.
Edited by Alison Stanton
Aimee Boyle is a regular contributor to EmpowHER. She is a writer and teacher in CT.