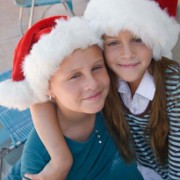 Photo: Getty Images
Here's the thing about holidays. Thanksgiving, Hanukkah, Christmas, New Year's and more….it's all about smiling. We smile looking at the glamour of the mall, the Merry Christmas photos where everyone is grinning ear to ear, those annual Christmas letters from everyone (yep, I've succumbed to it too) where we talk about how fabulous everything has been all year (that part I generally manage to avoid) and every movie is all about cheer. Commercials show us Mom baking up a storm in the kitchen with the almost professionally decorated living room in the background. A boatload of sparkly gifts lay under the tree and it truly is the season to be jolly. For some of us.
How about you?
The fact is that this time of the year can be horrible for those facing lost jobs, foreclosure and the light in their children's eyes as they talk about the holidays. In fact, it can be a downright anxious and depressing time, filled with dread by the expectations of those around us. The hottest toys and the coolest gadgets are great but they also cost an arm and a leg. With job layoffs and little cash on hand, the pressure to provide even a passable holiday season to kids is tough for many. Families are choosing between heat and light, getting their groceries at food pantries and hearts are broken when small children talk with excitement about what Santa might bring. You know that cool old guy - $anta? And for others without anyone to turn to– the loneliness of seeing others get together with their families and friends can be torturous.
So in an effort not to be too much of a downer at such a generally happy time, let's look at some of the ways we can cope financially over this 6 week period.
Saving on gifts and family meals:
We can and must be realistic. Children (if we're raisin' 'em right) should not have ridiculously high expectations for gifts. But every child deserves a package or two to wake up to on Christmas morning. Depending on each child's preference, buy one larger gift or a few small ones. Stores like Goodwill and the Salvation Army offer never-opened still-in-the-box toys that are excellent quality, for a quarter of the retail cost, or less. Don't be afraid to use these stores; people of every tax bracket enjoy them and your wallet will thank you for it. Your purchase will also go to a really good cause.
Contact social services in your area – toy drives are already in motion and brand new, in season gifts are available for no cost. If you are in need, find great gifts for your kids at no cost from Toys for Tots: http://www.toysfortots.org . Some other resources for help (without paying) are again, Goodwill www.goodwill.org , and the Salvation Army www.salvationarmy.org The holiday period is also a cold time. If your children need coats, click here: www.coats-for-kids.org , and the Boys and Girls clubs offer holiday offerings for people in need. Find them here: http://www.bgca.org
Lastly, the website called FreeCycle offers everything from toys to furniture to household good for no cost. Just be careful when picking things up – ask for everything to be left on the front porch. This is also the common practice for FreeCycle. You can find everything free in your town by clicking here: www.freecycle.org .
For friends and family – insist on having one Christmas "Santa" where names are picked and each person has only one gift to get for the group. The days of excess are long gone for most families and everyone will probably be relieved. Bake cookies for gifts and find cookie tins for fifty cents at garage sales or dollar stores - Target has a great dollar bin section which is terrific for stocking stuffers. Are you artsy or craftsy? Make your own gifts; there's nothing like a hand-crafted gift. Want to get a stylish gift but can't afford it? Try a consignment store.
For food, contact food pantries and turkey drive organizers. These foods will be given for free and holiday meals can remain the same as they ever were. Buy some foods now during the Thanksgiving sales and freeze it or store in your pantry. Want to take your kids out for a dinner? Restaurants often have a two for one special or kids eat free night. Check out what restaurants in your town offer this by using the great My Kids Eat Free site here : http://www.mykidseatfree.com/welcome.asp . Don't forget local churches and community centers! Many offer free food for the holidays as well as hot holiday meals in their centers – all free of charge and you'll have company to boot. These churches and centers also have great holidays and celebrations where you will find new friends and a great time. However, lots of us like to eat at home. To find the nearest food bank near you, click here: http://feedingamerica.org/foodbank-results.aspx .
As for kiddie entertainment? There's tons of it over the holidays and it's all for free at the local library. Cookies and Storytime with Santa, decorating parties and more are offered for no or very low cost and holidays books, Christmas movies and music are available for rent – for free. It's also free to join a library – where child and adult computer usage is also complimentary. To find the library nearest you, click here: http://www.publiclibraries.com
If your heat or electric bill are a worry, contact the Low Income Home Energy Assistance Program here (for heat or electricity ) : http://www.acf.hhs.gov/programs/ocs/liheap/ . Local TV station websites can offer more resources.
The holidays won't be easy for many Americans this year. Help out where you can, donate what you can, and use and pass the information above to those you know could use it. Kids and adults alike deserve a great Christmas that does not have to include stress and sadness about cost and debt. Despite the gloomy economy, we don't have to spend much to make this season great. The goodness and kindness from all of us, towards all of us, will get us through this season with nothing more than great memories and a positive glance to the New Year, and truly make it the most wonderful time of the year - for all of us.
Tell Us
Do you or someone you know need help during this time? What further information would you like to see?