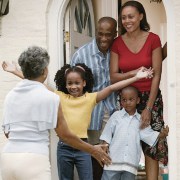 Photo: Getty Images
Wishing someone luck is a force of habit we've become accustomed to, like saying "Drive Safely!" or "Have Fun!" But if you break down the importance of the people in your life wishing you well and having good will toward you, there is no way to overestimate its importance in your life.
Studies have proven that emotional support and social support (people on your side, wishing you well) are so important during times of stress and even as we age, that we actually live longer, healthier lives as a result. Recovery from trauma, stressors and even surgery can happen quicker and more efficiently with a social support group available and authentically on your side.
Keeping this in mind as you travel throughout the day making and solidifying connections with people can inform the choices you make about how to interact and what you say and do around those you may only consider acquaintances.
Similarly, using social networking sites like Facebook and others can be hotbeds of either incredible social support or horribly bullying depending on how you choose to use its potentially enormous power.
We need people in our lives to wish us well because it cushions our emotions, and improves our immune system. In an amazing article about the topic of good will written over 40 years ago, the underlying tenants of kindness are explored and explained within the context of Buddhism. For further reading, click on this link: http://www.accesstoinsight.org/lib/thai/lee/goodwill.html
While there are many, many levels of moral organization within human beings, families and communities, the basic understanding that having people around you who wish good things for you, and wishing these same good things for others both increase your health, vitality and longevity can improve every aspect of your life.
Good luck with this!
Aimee Boyle is a writer and teacher in CT. She is a regular contributor to EmpowHER.
Edited by Alison Stanton