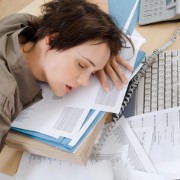 Photo: Getty Images
Stress is a natural part of life, and in our modern lives where we all must do SOMETHING to face the realities of the all-mighty dollar, stress can be almost supernatural, keeping us from sleep or healthy food, happiness and even our ability to function.
How much stress is an alright amount and how much is simply too much? For each of us this question will have a different answer.
If you remember back to your school days (or perhaps you're in them right now?) you'll remember that some students were just ridiculously competent under pressure. It didn't matter if they had three exams, two papers and a part-time job, they kind of just handled it all and were not particularly bothered by any of it.
Others of us, on the other hand, needed time and patience to get done the things we were obligated to do and needed more peace, more tranquility. We couldn't simultaneously study for three different exams and also write our papers and work.
We needed to organize our responsibilities or perish, figuratively. You can see it in children from a very young age -- the threshold they have for stress is apparent.
Is getting your preschooler off to preschool every morning a fun, easy-going experience or a sort of battleground in which no one wins? Handling stress is complex. Stress itself can vary so much in its very nature that it's sometimes tough to tell what you're even really reacting to.
Some important signs of being overly stressed out, though are the following:
* increase or decrease in sleeping patterns
* increase or decrease in appetite
* increase in anxiety symptoms such as panic attacks, phobias, nervousness
* irritability
* difficulty concentrating
* difficulty with memory
Instead of immediately turning to medication or unhealthy methods of coping with stress, such as excessive eating, drinking, substance abuse or sleeping, try a few management techniques such as:
* keeping a journal of times when you feel stressed
* cutting down on any responsibilities you can afford to
* learning to create healthy boundaries with bosses, friends and family and kindly say "no" in your personal and professional life when you really need to
* Getting a lot of rest, exercise and sleep
* Eating healthy food -- sugar and caffeine can contribute to high stress levels and processed foods can change your ability to handle stress
Seek counseling if your stress is unmanageable. Even short periods of counseling may help you find techniques to manage your stress.
Sources:
"Stress Management: How to Reduce, Prevent and Cope with Stress"
HelpGuide.org. Retrieved from the internet on December 21, 2011
http://www.helpguide.org/mental/stress_management_relief_coping.htm
Stress Basics. MayoClinic. Retrieved from the internet on December 21, 2011
http://www.mayoclinic.com/health/stress-management/MY00435
Aimee Boyle is a regular contributor to EmpowHER
Reviewed December 21, 2011
by Michele Blacksberg RN
Edited by Jody Smith