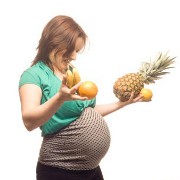 Photo: Getty Images
Although it's correct that years ago women who suffered from epilepsy were encouraged not to get pregnant, that's just not true anymore. Doctors have learned to manage this condition. As a result, according to the Epilepsy Foundation, 90 percent of pregnant women with epilepsy have healthy babies.
For some with this condition, conceiving itself is difficult due to irregular cycles and other reproductive problems. For others, the seizure medicine itself poses the problem and can cause infertility. In regards to the baby, it is important to know that any and all medicines may have adverse reactions that can affect the baby. Seizure medicines are no different. Most times, uncontrolled seizures pose a greater danger than any prescribed medication. The Epilepsy Foundation reports four to eight percent risk of birth defects caused by seizure medicines as opposed to the two to three percent for all other babies. Uncontrolled seizures cut off oxygen from the unborn child and increase the chance of miscarriage or stillbirths.
Your doctor will prescribe the safest dosage possible for you. As your pregnancy moves along and changes occur, your medicines may have to be adjusted to make sure your health is maintained. Once controlled by drugs, can epilepsy still affect your child? Your child does have a chance of developing seizures once older. They may have minor birth defects like wide-set eyes, short upper lip and developmental delays.
Preparation:
• Make preconception appointments with all your doctors to discuss how you will manage your health while pregnant.
• Take your seizure medicines as prescribed.
• Eat a healthy diet.
• Take prenatal vitamins.
• Include physical activity in your daily routine.
• Keep stress under control.
• Get enough sleep.
• Avoid smoking, alcohol and illicit drugs.
• Limit the amount of caffeine in your diet.
Resource: Mayo Clinic
Dita Faulkner is a freelance writer and a loyal fan of the University of Memphis Tigers basketball team!!