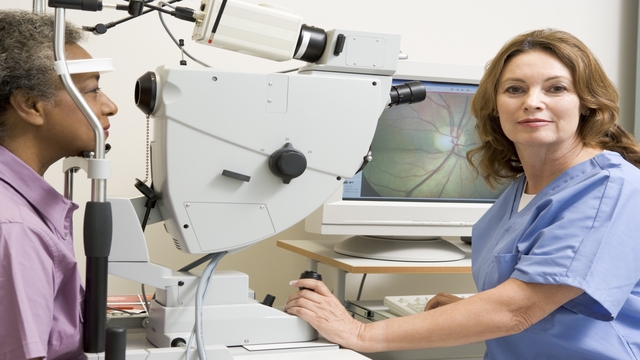 MonkeyBusiness Images/PhotoSpin
According to the National Eye Institute (NEI) more than 11 million people in the U.S. have common eye issues. Those common eye issues include presbyopia, myopia (nearsightedness), hyperopia (farsightedness) and astigmatism. Also, undetected vision problems and eye diseases affect millions of people in the U.S. according to the National Institute of Health (NIH).
Healthy vision is a vital part of our daily health. As we age, our vision changes. If you find your vision changing, contact your eye doctor and request a full eye examination. Vision changes can be easily corrected with prescription glasses and/or contact lenses. Sometimes eye correction surgery is an option.
The following are recommendations for complete eye examination visits by the American Optometric Association (AOA):
• 0-24 months; By 6 months of age
• 2-5 years; At age 3
• 6-18 years; Before first grade, then every 2 years
• 18-40 years; Every 2-3 years
• 41-60 years; Every 2 years
• 61 and up; Annually
Also, the AOA recommends individuals with high risk factors have complete eye exams more frequently. If you have any high risk factors, ask your eye doctor for their recommendation on the frequency of your eye visits. Possible risk factors include:
• Diabetes
• High-blood pressure
• Glaucoma
• Cataracts
• Career which is visually demanding
• Currently taking medications which may effect your vision
A complete eye examination is only performed by an optometrist or ophthalmologist.
Also, please note there is a difference between an eye screening and a complete eye examination. An eye screening is performed by a nurse. Also, you may receive an eye screen at the Department of Motor Vehicles when you obtain your driver's license. This screening is not the recommended eye examination to prevent or correct vision issues.
A complete eye examination takes approximately 30-45 minutes. If your eye doctor performs a comprehensive dilated eye exam, your appointment may last longer. Components of your eye exam include:
• Personal eye and full family history
• Eye Chart (visual acuity)
• Side vision test, eyelid health and pupil dilation
• Eye refraction test
• Slit lamp examination
• Glaucoma test
• Retinal eye exam (dilated eye exam)
The eye refraction test will test for refractive errors. The four types of refractive errors include: presbyopia, myopia (nearsightedness), hyperopia (farsightedness) and astigmatism. Sometimes you may have one or more of these which can be easily corrected with eyeglasses and/or contacts.
All of these eye exam tests are painless. An eye dilation test is done with a few drops to dilate your pupils. This allows the eye doctor to examine your retina and optic nerve. By examining your retina and optic nerve, your eye doctor can determine if you have diabetic retinopathy, age-related macular degeneration or glaucoma.
Sources:
http://www.nei.nih.gov/healthyeyes/
http://www.aoa.org/documents/Recommendations-for-Regular-Optometric-Care.pdf
http://www.aoa.org/x4725.xml