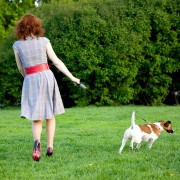 Photo: Getty Images
After my recent cardiac procedure, I couldn't afford attending cardiac rehab at $20 or $30 per session. So, I walked. With the dog of course. After my discharge from the hospital, I started first walking inside the house back and forth from the front door to the back door. At first I was stopping every round and taking a breather. It was hard to walk but 10 steps. Just going to bathroom was an ordeal, but as the time went by it got easier.
The last time I went through this, I remember doing pretty much the same thing with rehab, but with one difference: I just walked for a few days and later on started jogging and pretty soon I was jumping ropes and doing weights. I was also six years younger and could do a lot more things much easier. As the years have gone by I guess I lost the stamina and muscle power that I had back in the days. I recovered lot faster then. I went back to work within one month doing mammograms, sometimes 20 to 29 per day.
For some reason this time I find myself being less physically active. I do walk the dog every other day. I joined the local gym where I attend Zumba classes every Tuesday and Thursday. I do most of the household chores just so I could keep myself active. But I think either my age is catching up with me or I am not doing something right. I do have interest in working out but when the time comes for it I keep making excuses to get away from it. I don't think all people my age are physically less active. As a matter of fact I have a neighbor who is in his 70's and still does sky diving, paragliding, hiking and what not. I have seen 60 and 70-year-olds working out with so much excitement at the gym. Then what is really wrong with me? Why couldn't I be like anyone else? Especially with my health condition I should be working out everyday. Is it the medicines that I take?
I sat quietly in a corner yesterday early in the morning and contemplated my difficulties and reasons for not being up to the workout regiment. I filtered out each reason and analyzed it from every angle. I considered all the concerns I had regarding my health issues : the medicines, my blood sugar, my food habits, my shoes, my sleeping patterns, my daily routine, etc.
I narrowed it down to my blood sugar, my food habits and my sleeping patterns. I haven't been following a proper diet. I have been eating too many carbs that are causing me to slow down due to raised blood sugar. I go to sleep very late, sometimes at three in the morning, which makes me groggy and grumpy. Naturally, it is hard to be able to do anything physically active.
So, I changed my diet completely. My breakfast consists of one slice of whole wheat bread with margarine and half a teaspoon of honey, half a cup of bean sprouts, and one cup of coffee. I used to eat half a cup of white rice with lunch--I changed it to a quarter cup of brown rice. For dinner I now eat half a whole wheat tortilla with some vegetable curry or chicken or ground turkey. I eat mixed nuts, half an orange, half an apple and tea for snacks. My blood sugar came down quite a bit with that. So, there is no longer a problem there. I started getting to bed by 11 or 11:30 so I could wake up early by six. You would think that since I'm now doing everything right that my exercise issue would be better; so why am I still having a problem exercising?
I finally noticed that every time I walk the dog I am being pulled so hard by her that I am not only getting exhausted but ending up with sore muscles the next day. And every time I walk I am getting carried away--I just go for hours in the hot sun and come back tired with absolutely no energy for the next day. Last but not least, I carry water for the dog but not for me. Now, I know better than to walk for two or three hours--I go out now for 40 minutes or so. I also got a training chain for the dog so she won't pull me hard enough to yank my joints out of my sockets. I finally realized how much exercise is too much for me. Yep, I do it one day at a time, one step at a time. I don't let the dog lead and push me around; I lead and hold her on the leash because, MY LIFE MATTERS.
Tags: