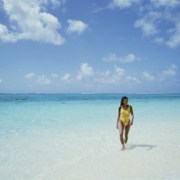 Photo: Getty Images
Meditation is so often thought of as a practice of sitting still that we often think if we can't sit still we can't meditate. Truthfully, many of us don't even know what meditation really is; there are stereotypes galore, rife with images of oval-fingered, palm-facing-upward serenity and placid facial expressions, candles and gently closed eyelids.
Although we've heard vague notions of stress relief and bliss, many Westerners-- unless you've purposely led yourself toward meditation or were born into a family which practiced it--do not understand what it is all about. Can you text during a meditation session? Is it all right if the television is on in the background? Do you fall asleep?
Meditation conjures images of quiet and peace, candles and sitting with eyes closed because the very nature of meditation is to undo the overstimulation of the mind and bring it back to a single point of concentrated focus. By letting go of thoughts, images, worries, high excitements and arousals and low despair and depressions, we can reclaim a sense of balance within ourselves spiritually, emotionally and psychologically. For a more detailed explanation of mediation follow this link: http://www.meditationsociety.com/what.html
Walking can serve many of the same purposes. All types of exercise have proven to calm one's mind and bring the energy into alignment, using endorphins as a means of lifting the sense of doom, dread and despair we feel, and oxygenating the blood so that our millions upon billions of thoughts are crowded out by the buzz in our blood and limbs.
By combining walking with meditation you serve the dual purpose of stilling your mind with the purpose of moving your limbs and staying fit, but what's more helpful, the rhythm of the walking as you feel your feet find their own drumbeat and steady rhythm of your breathing can really bring your mind back into that still, quiet place.
Candles, incense and sitting have their place, of course, there is no doubt whatsoever. But for many of us who become frustrated with ourselves because sitting is so challenging, or for those who want an extra benefit while walking, combining walking and meditating can be extremely beneficial. Walking early in the morning, just after waking up, when the air is cool and the birds are just starting to sing can refresh your spirit and put things in perspective too. Breathe, step, breathe, step, breathe, step, chant, focus, become one with your walk.
Edited by Alison Stanton
Aimee Boyle lives in CT with her family and contributes regularly to EmpowHER.