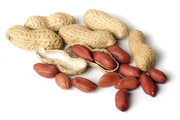 Photo: Getty Images
The company, Organic Food Bar, Inc. of Fullerton, CA, is recalling several lots of Chocolatey Chocolate Chip RAW Organic Food Bars, due to the fact that they may contain traces of peanuts that have not been declared. People with an allergy to peanuts may experience a life-threatening reaction if they eat the product.
The product is for sale in the United States and Canada and was distributed in retail stores and by mail order. The affected lot numbers are:
Lot #3071210, exp. 12 Jul 2011

Lot # 02081610, exp. August 2011
Lot #01081610, exp. August 2011
Lot #04092710 exp. 27 Sep 2011
The peanuts ended up in the product as a result of cross contamination at a food processing plant. The company have now changed their vendor.
If you have an organic food bar with one of the above lot numbers and you have a peanut allergy, DON'T eat it.
Any customer with affected bars, should return them to the place of purchase for a full refund. If you have any questions, you can contact Organic Food Bar, Inc. at 1-800-246-4685, from 9 a.m.-5 p.m. Pacific Standard Time, Monday-Friday.
Source: Food and Drug Administration Press Release, 15th April 2011.
Joanna is a freelance health writer for The Mother magazine and Suite 101 with a column on infertility, http://infertility.suite101.com/. She is author of the book, 'Breast Milk: A Natural Immunisation,' and co-author of an educational resource on disabled parenting, in addition to running a charity for people damaged by vaccines or medical mistakes.
Tags: