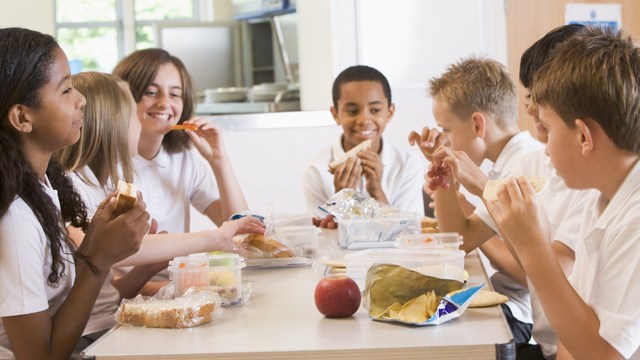 MonkeyBusiness Images/PhotoSpin
School lunches get a bad rap for plenty of reasons. Maybe the "mystery" meat is too mysterious. Maybe there are too many vegetables and not enough pudding. Maybe the bread is a little hard or the pizza a little limp.
But taste and variety are not the real issues in many school lunches. For the nearly six million kids with food allergies, just navigating the lunch room and figuring out what can be eaten, and sometimes who they can sit with, is the difficult part.
Kids with food allergies are not just picky eaters. Their bodies can have a severe and possibly fatal reaction if they eat the foods to which they are allergic.
According to the Centers for Disease Control and Prevention, 90 percent of all the serious allergic reactions in this country are caused by allergies to eight foods or food groups. This list includes:
- Fish
- Crustacean shellfish
- Wheat
- Soy
- Peanuts
- Milk
- Eggs
- Tree nuts
There are a lot of kids, more each year, who suffer from these allergies. From 1997 to 2007, the prevalence of food allergies in children increased by 18 percent.
Reactions to these allergies have become the most common cause of anaphylaxis, a severe and sudden allergic reaction which can cause death, in community settings.
By 2006, 88 percent of schools in the United States had at least one student with a food allergy.
These children who have been diagnosed with food allergies are two to four times more likely to also suffer from asthma or other allergies than those children without food allergies., This can make their reactions even more serious.
Experts are not sure why there has been an increase in food allergies, though some point to the so-called "hygiene hypothesis."
This hypothesis suggests that the ultra-clean environments in the developing world prevent kids from being exposed to the pathogens or parasites children are normally fighting off. This makes their immune systems shift in a way that is not beneficial to the children.
There is also a link between the method of delivery at birth and the prevalence of food allergies. Children who were born via C-section are more likely to suffer from food allergies.
Food allergies do not have to be a life-sentence though. Many children grow out of food allergies, specifically milk and egg allergies. Children allergic to peanuts, though, have only a 20 percent chance of outgrowing that allergy.
Living with food allergies, and doing one's best to reduce any allergic reactions, is the goal.
It is obvious that any person diagnosed with food allergies should strictly avoid that food. The severity of a food allergy reaction and the symptoms it causes can be different between two individuals, but it can also be different for the same person at different times.
Children should know about their allergy and recognize the symptoms of an allergic reaction. In a school setting, teachers and staff should be aware of the food allergies any children have, and should have plans in place to deal with any reactions.
Parents can advocate for their children by informing any caregiver about the allergy and the plan in place, should a reaction occur. If the kids, parents and school staff are proactive in understanding and preparing for possible food allergy reactions, the risk of fatal or life-threatening reactions will decrease.
Sources:
CDC.gov. Web. 8 September 2014. "Food allergies."
http://www.cdc.gov/healthyyouth/foodallergies
KMUW.org. Web. 4 September 2014. "Managing food allergies in the school system."
http://kmuw.org/post/managing-food-allergies-school-system
Reviewed September 9, 2014
by Michele Blacksberg RN
Edited by Jody Smith
Tags: