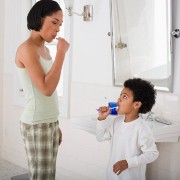 Photo: Getty Images
One form of periodontal disease is gingivitis. This mild form of periodontal disease is fairly common especially among teens, pregnant women and older adults. In most cases, gingivitis is reversible. However, if gingivitis is left untreated, it can lead to the deterioration of your gums and eventually your teeth.
The main cause of gingivitis is plaque. The National Institutes of Health (NIH) states ʺPlaque is a sticky material made of bacteria, mucus, and food debris that develops on the exposed parts of the teeth.ʺ
Plaque is generally caused by poor dental hygiene. And, the main cause of tooth decay is plaque because plaque turns into tartar. According to CNN, ʺPlaque requires daily removal because it re-forms quickly, usually within 24 hours. ʺ Also, within 48-72 hours plaque can harden and turn into tartar. These two enemies of the mouth cause the symptoms of gingivitis.
According to the NIH, gingivitis symptoms include:
• Shiny appearance to gums
• Gums that are tender when touched, but otherwise painless
• Bleeding gums (blood on toothbrush even with gentle brushing of the teeth)
• Swollen gums
• Bright red or red-purple appearance to gums
• Mouth sores
Some people may be more at risk for gingivitis than others. The American Academy of Periodontology stated other risk factors of gingivitis include:
• Diabetes
• Smoking
• Aging
• Genetic predisposition
• Systemic diseases and conditions
• Stress
• Inadequate nutrition
• Puberty
• Hormonal fluctuations
• Pregnancy
• Substance abuse
• HIV infection
• Certain medications (birth control pills, phenytoin, etc.)
The best gingivitis treatment is good oral hygiene. To treat your gingivitis at home, you must floss and brush regularly. Also, consider using an antibacterial mouth wash daily. If your gums are swollen or inflamed, use a warm salt wash.
Remember, you cannot remove tartar at home. Your oral hygienist or dentist can remove your tartar during your bi-annual dental visit.
CNN recommends the following gingivitis treatments:
• Brush your teeth twice a day. Especially after every meal or snack.
• Use a soft toothbrush. Replace your toothbrush every three to four months.
• Consider using an electric toothbrush, which may be more effective at removing plaque and tartar
• Don't rely on tartar-control toothpaste
• Floss daily
• Use an antiseptic mouthwash, if recommended by your dentist
• Use an interdental cleaner, such as a dental pick or dental stick specially designed to clean between your teeth
• Get regular professional dental cleanings (bi-annual)
References:
Gingivitis. CNN.com - Breaking News, U.S., World, Weather, Entertainment & Video News. Retrieved October 13, 2011, from http://www.cnn.com/HEALTH/library/gingivitis/DS00363.html
Gingivitis - PubMed Health. National Center for Biotechnology Information. Retrieved October 13, 2011, from http://www.ncbi.nlm.nih.gov/pubmedhealth/PMH0002051
Gingivitis: MedlinePlus Medical Encyclopedia. National Library of Medicine - National Institutes of Health. Retrieved October 13, 2011, from http://www.nlm.nih.gov/medlineplus/ency/article/001056.htm
Gum Disease: MedlinePlus. National Library of Medicine - National Institutes of Health. Retrieved October 13, 2011, from http://www.nlm.nih.gov/medlineplus/gumdisease.html
Information on Gingivitis from the American Academy of Periodontology. Gum Disease Information from the American Academy of Periodontology. Retrieved October 13, 2011, from http://www.perio.org/consumer/gingivitis.htm
Periodontal (Gum) Disease: Causes, Symptoms, and Treatments. NIDCR Home. Retrieved October 13, 2011, from http://www.nidcr.nih.gov/OralHealth/Topics/GumDiseases/PeriodontalGumDisease.htm
Reviewed October 13, 2011
by Michele Blacksberg RN
Edited by Jody Smith
Tags: