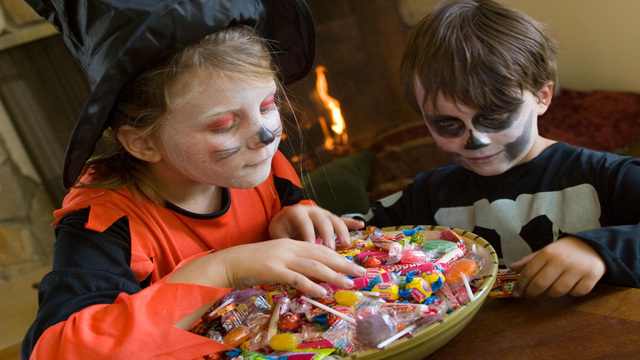 PhotoSpin
Eating lots of sweets at Halloween is tempting, but many parents feel the familiar pull of guilt when they see the horde of candy their children stash away each Halloween. But how much is too much? And does a few extra candy bars really have a lasting impact on children's teeth?
In an email interview for this article, pediatric dentist, Dr. John Dodes, said he believes moderation is the key and that indulging a little on a holiday is fine. But, he urged parents to not let children overdo it.
"Enjoying Halloween candy isn't going to be painfully detrimental to your child's oral health," said Dr. Dodes, "but generally speaking, it is important that as parents we supervise our children and monitor their sugar in-take. You don't have to ruin Halloween with a 'no candy' rule. Everything in moderation is fine."
When the idea of moderation isn't followed, tooth decay can occur. The Centers for Disease Control and Prevention (CDC) says tooth decay affects children in the United States more than any other chronic infectious disease. This decay can be caused by poor eating habits and equally poor dental care. The CDC says that tooth decay can cause pain and infection and can hamper everyday activities like eating, talking, playing and learning.
Dr. Dodes, also the author of "Healthy Teeth: A User's Manual" said there are some great ways to keep children's teeth (and whole mouth) healthy before, during, and after holidays like Halloween. He urged parents to get kids motivated to take care of their own teeth by first and foremost setting a good example.
In the interview, he said that when kids see their parents brushing, flossing, and rinsing, they are more likely to want to do it themselves. He also was very impressed with kid-centric products like Listerine's Smart Rinse mouthwash.
He said, "Smart Rinse is great in the eyes of parents and dentists as it strengthens teeth 99 percent better than brushing alone and has fluoride which provides cavity protection. And it's designed specifically for kids by incorporating cartoon characters into the packaging, adding an extra element of fun for the kids, as well."
Unfortunately, not all children have access to dental care. However, the National Children's Oral Health Foundation (NCOHF) is doing something about that fact. They created the Trick or Treat for America's Toothfairy campaign, an initiative encouraging families to collect money for the millions of children who are without oral care during their normal Trick or Treat fun.
According to the NCOHF, nearly 4 million children suffer from severe dental pain. In fact, they say that pediatric dental disease is the number one chronic childhood disease in America, five times more common than asthma. In the interview for this article, Dr. Dodes let it be known that he clearly supports this NCOHF program and encourages his patients to learn more about it and participate in it.
The bottom line is that oral health is very important to children, and parents should not let a fun holiday like Halloween curtail healthy dental care efforts. Not all children can take advantage of good dental care. Families who have it should use it to the fullest.
Sources:
Email interview of Dr. John Dodes, pediatric dentist and author. Email. 26, October, 2011.
Centers of Disease Control and Prevention. Web. 26, October, 2011. "Oral Health Topics: Child".
http://www.cdc.gov/oralhealth/topics/child.htm
National Children's Oral Health Foundation. Web. 26,October, 2011. "Trick or Treat".
http://www.ncohf.org/what/trickortreat
National Children's Oral Health Foundation. Web. 26,October, 2011. "America's Toothfairy Trick or Treat Fact Sheet." http://www.ncohf.org/assets/1694/America_s_Toothfairy_TOT_Fact_Sheet_2011.pdf
Reviewed October 27, 2011
by Michele Blacksberg RN
Edited by Jody Smith