Women's Empowerment Workshop in Vail - Connect mind, body, spirit through nature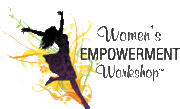 By
Susie Kincade
March 28, 2011 - 10:36pm
Ladies, I want to let you know about an extraordinary Women's Empowerment Workshop coming to Vail, CO in September. There is nothing quite like this anywhere! Discover the power of nature. Discover the power of YOU! Through soulful explorations in the heart of the Rockies, you'll learn tools for self-awareness, confidence, well-being and authenticity. Here's the info:
The 2011 Women's Empowerment Workshop will be held amidst the stunning landscape of Vail, Colorado, September 15-18. This unique event empowers women to nourish mind, body and spirit by connecting to the natural world in a profoundly enriching, compelling, and transformational way.
Women will discover and renew their personal strength, well-being and confidence through soulful and expertly guided activities in Vail, including hiking, rafting, rock climbing, nature photography, equine empowerment, meditation and yoga. Each activity is designed around nature's potent metaphors and tools for empowering one's life.
Women's Empowerment Workshop fills an important role in Vail's extensive array of summer offerings, bringing a key element of inner health and wellness, and doing it through the magnificent outdoor opportunities available in the heart of Colorado's Rocky Mountains.
Expert Guides
All activities are guided by experts in the field, including nationally known leaders such as Melisa Pearce and Touched by a Horse, Tanya Miller's Trailwise Guides; climbing outfitter Adventure Travel Guides International; nature photographer, Bill Bonebrake; horticulture therapists from the Betty Ford Alpine Gardens; and Vail's renowned river outfitter, Timberline Tours. Beyond leading safe and pleasurable outings, these facilitators have the unique ability to use the experience as a way to teach tools and build confidence around problem solving, exploring intuition and self-awareness, meeting unexpected challenges, creating back-up plans, teamwork and play.
Life coaches, yoginis and meditation guides round out the resources available during the workshop. Healthy, locally grown food, along with Vail's vibrant nightlife and dazzling autumn colors provide a perfect setting for women of all ages to nourish mind, body and spirit.
Personalized Programs, Impactful seminars
The range of activities offered appeals to the artist, the adventurer, the philosopher in every woman. Because every woman has different desires and goals, each will design her own program schedule, focusing on areas she wants to strengthen. Pre-event Webinars help lay the foundation for the workshop. An Envision Your Life seminar and Woman's Inner Wisdom seminar during the workshop deepen self-awareness, while post-event webinars offer additional tools, and support continued confidence and growth.
Inspiring Speakers, Lynne Twist and Shannon Galpin
Global activist Lynne Twist, author of Soul of Money, and founder of Soul of Money Institute and Pachamama Alliance will deliver the public Keynote address, inspiring people to be "change agents" by finding their passion and taking it into their life in a way that is meaningful to them. Founder of Mountain2Mountain, Shannon Galpin, will address individual capacity, offering motivation for each woman to bring forth her authentic self. The short documentary film, Waking Lions, produced by Vail filmmaker, Alison Otto, will also be shown.
Registration begins March 28 at www.womenempower.us. Cost of Women's Empowerment Workshop is $1999 through May, for three nights/four days deluxe Vail Racquet Club lodging, meals, and all activities and seminars (airfare not included). The price is $2299 after June 1. Women's Empowerment Workshop is produced by Envision.Believe.Create.marketing for our future. For more information, contact susie@womenempower.us.