Susan Krug's Story: Life with Hypophosphatasia (HPP)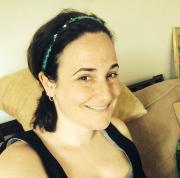 By
cbegun
Blogger
February 7, 2014 - 9:34am
Susan's health saga began at birth. Her parents were told that she would never walk or talk and would be mentally challenged. There were no treatments available and they were told to just love her every day because she wouldn't live past three years of age, because at the time no one with infantile Hypophosphatasia (HPP) ever did. The doctor's; however, failed to mention anything to her parents about frequent bone breaks that would become a part of Susan's new normal.
By her first birthday, Susan weighed only nine pounds and could barely hold her head up, kick her legs or move very much. With HPP bones are extremely soft and brittle and can break easily. Challenges continued for Susan as fractures can happen even while standing up from sitting or getting a leg caught in the blankets at night. She experienced numerous fractures over the course of her life including many femur breaks leaving her in recovery for weeks and months at a time sometimes needing a wheelchair to get around. She also had to have numerous surgeries to put in rods when she had growth spurts to support her fragile leg bones. It got to a point where Susan's mom knew how to identify the breaks and how to splint them because fractures happened so often.
Susan never gave up, and neither did her mom. She was her rock and continues to be to this day. Susan had been defying all odds against HPP. By the time high school rolled around Susan could walk on crutches and started to experience fewer broken bones. Despite not being like other kids her age physically, it didn't stop her from finding activities she was passionate about. She worked hard and lived life.
Susan case of HPP is severe. Not everyone with this disease will go through what she has endured. The good news is that medical advancements are starting to evolve, which were not available when she was young. This is promising news for children and adults with HPP.
Despite her brittle body, keeping strong emotionally and arming herself with as much information and support as possible has helped her to live life and be an active part of it.
HPP was, many years ago, an unengaged patient population, because the disease was so unfamiliar. There has been a significant paradigm shift in attention and awareness around HPP. Thanks to adults with HPP and caregivers of children living with the disease organizations such as Soft Bones: Finding the Key to HPP (www.softbones.org), are now available helping to connect families in need, together encouraging for much-needed research, and finding necessary support and understanding.
Strength indeed comes in numbers and Susan has joined this quest by sharing her personal story to inspire, encourage and support others, while elevating the conversation around HPP.
Full Disclosure: Please know that the public relations agency, Green Room Communications, that I work with provides pro bono support for HPP and www.softbones.org awareness. I have not been paid for my time or this post.