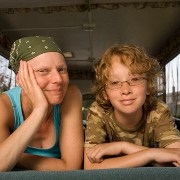 Photo: Getty Images
Hair loss from chemotherapy or radiation therapy can be devastating. Many women naturally try wearing wigs during that time period. However, wigs may not work well for one reason or another or a woman simply doesn't want to wear one all the time.
Luckily, these days there are a number of online businesses that have been started by women who have experienced cancer-related hair loss themselves. They offer a variety of solutions for the loss of one's hair and usually have other products or services that may help. Below are a handful of websites to explore.
• Headcovers Unlimited at www.headcovers.com
Started by Carol Galland-Wildy, with her daughter Danielle, after her own devastating experience with hair loss after treatment for breast cancer in 1989 when she was 40 years old. This site has wigs, turbans, scarves and other headcovers such as hats with hair and a line of cosmetics specifically intended for those being treated for cancer. There is also a selection of headcovers for children and men.
• Hats, Scarves and More at www.hatsscarvesandmore.com
Started by Nicki Serquina in 1988 after being diagnosed with stage 3 ovarian cancer. A hairdresser by trade, Serquina has offered consulting for cancer patients regarding wigs, hats and scarves since 1993. She also owns a beauty salon in Spokane, Wash. Products include turbans, sleep caps, scarves and choices for men, teens and children.
• Hats with Heart at www.hatswithheart.com
Founded in 1993 by Kay Gravett due to her own need, the company has been carried on since her passing "to meet the needs of women enduring the stages of cancer treatment and hair loss due to alopecia, trichotillonmania, lupus, burns and other medical conditions and treatments". Over 90 percent of their products are hand-sewn by local sewers instead of being mass-produced.
• BeauBeau® head scarves at www.4women.com
Owner Susan Beausang is from a family with three generations of breast cancer survivors and also suffers from alopecia areata. Her products come in a variety of fabrics and scarves and are lined in cotton.
• Just In Time, Inc. at www.softhats.com
Specializes in a variety of hat styles. The owner was diagnosed with breast cancer in 1985 and was drawn to wearing hats instead of wigs because she felt she was pretending to have hair and also found wigs to be itchy and uncomfortable. She set out to design and sew her own 100 percent cotton hat styles and her headcovers focus on comfort and good construction.
Additionally, this forum link from Breastcancer.org has numerous other sites listed. Some offer free or subsidized head coverings:
http://community.breastcancer.org/forum/69/topic/744161
Forums such as these are a helpful ways to find and connect with other women with cancer and hair loss.
Additional sources:
Why and How Hair Loss Happens
http://www.breastcancer.org/tips/hair_skin_nails/hair_loss.jsp
Michele is an R.N. freelance writer with a special interest in woman's health care and quality of care issues. Other articles by Michele are at www.helium.com/users/487540/show_articles
Edited by Alison Stanton