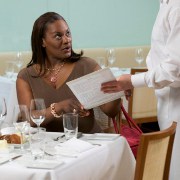 Photo: Getty Images
If you knew the calorie count in every dish you considered eating, would you change your eating habits? It's a question at the heart of new national calorie count legislation passed as part of the American health care reform bill.
The U.S. Food and Drug Administration issued proposed regulations for calorie labeling on menus and menu boards in chain restaurants, retail food establishments and vending machines.
"These proposals will ensure that consumers have more information when they make their own food choices," said Department of Health and Human Services Secretary Kathleen Sebelius. "Giving consumers clear nutritional information makes it easier for them to choose healthier options that can help fight obesity and make us all healthier."
The new rules would require restaurants and retail food establishments that are part of a chain with 20 or more locations to post calories in menus and menu boards. About 280,000 establishments nationwide would have to comply by 2012.
The rules are designed to give nutritional info to people who eat out. For years, consumers have been able to view nutritional information on packaged goods cooked at home.
"Americans now consume about one-third of their total calories on foods prepared outside the home," said FDA Commissioner Margaret A. Hamburg, M.D. "While consumers can find calorie and other nutrition information on most packaged foods, it's not generally available in restaurants or similar retail establishments. This proposal is aimed at giving consumers consistent and easy-to-understand nutrition information."
Along with calorie info for each food item, the FDA is also proposing that restaurants prominently display information about daily calorie intake, so consumers can understand the impact of their choices: "A 2,000 calorie diet is used as the basis for general nutrition advice; however, individual calorie needs may vary."
Movie theaters, bowling alleys, and other places whose primary purpose is not to sell food are exempt for now, but the proposed rules would apply to food found in vending machines for operators who own 20 or more machines.
Some national chains, like Panera Bread, have already begun posting calories counts throughout the country. Cities like New York City and Seattle also require chains to post calorie counts on their menus.
The FDA invites input on the proposed regulations by visiting http://www.regulations.gov.
Suzanne Boothby is a Brooklyn-based wellness author and writing coach who dabbles in social media and marketing. She is also the co-founder of NY Family Wellness. Visit www.suzanneboothby.com to learn more.
Associated Press
FDA Labeling Requirements
Tags: