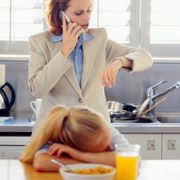 Photo: Getty Images
Breakfast is the most important meal of the day, they say, so why is it that so many of us just gulp down some java and wait for the sick feeling to take us through the morning until we crash straight into ravenous, irrational starvation? I don't really know the answers but I do know that there are a few possibilities.
Possibility one: We are harried, hurried and stressed out. We want to try and shower, dress, groom and primp at least a LITTLE and, for many of us, we actually have other mammals/humans to feed, walk, talk with, pet and clean as well as ourselves. It all has to happen so QUICKLY!
Possibility two: We simply aren't hungry when we first awaken. This is actually real. Many people just don't wake up ready to gobble up the day. They are slow to rouse themselves and need awhile to get their juices flowing, energetically speaking, before hunger really feels like an itch to scratch.
Be that as it may, many health experts agree that eating SOMETHING is really important. It gets your metabolism going, gives you energy, and fills you up so that you could possibly make healthier eating choices later in the day instead of being google-eyed and desperate by 12:30.
The best of the best when it comes to breakfast is still the simplest, cheapest and most easily converted into your favorite bunch of flavors. Yes. Oatmeal. The beauty of oatmeal is that it has all the goodness you want in a healthy breakfast idea without the time, thought and energy you need to have for larger, more elaborate meals. Oatmeal is a gift.
For ideas of flavoring oatmeal in a healthy way think about things like cinnamon, honey, maple syrup, fruit, yogurt, granola and yes, even jam. Flavoring oatmeal takes moments.
My favorite way to flavor oatmeal is to make the oats on a stove top instead of the microwave and then add my flavorings in as I'm stirring to really blend everything well. An especially filling oatmeal delight involves soy milk and peanut butter. It's incredibly delicious, nutritious and filling.
Other quickly healthy breakfasts include Greek yogurt with fruit, or a smoothie blending the Greek yogurt and the fruit along with berries (frozen are fantastic and still retain their nutritional value overall).
Eggs are a wonderful source of protein, so don't slather them in fried oil or butter, but poach them, boil them and ease them on over, place them gently upon the whole wheat bread of your choosing and voila! You still have time to shower the dog and walk your kids ...
Sources:
Healthy Breakfast Ideas and Recipes by Elaine McGee MPH RD
WebMD. Retrieved from the internet on January 17, 2012
http://www.webmd.com/food-recipes/features/healthy-breakfast-ideas-and-recipes
13 Healthy Breakfast Ideas by Jessica Smith. Shape.com
Retrieved from the internet on January 17, 2012
http://www.shape.com/healthy-eating/meal-ideas/13-healthy-breakfast-ideas
Aimee Boyle is a regular contributor to EmpowHER
Reviewed January 18, 2012
by Michele Blacksberg RN
Edited by Jody Smith