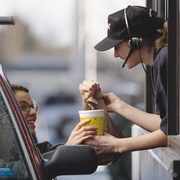 Photo: Getty Images
It may seem as if healthy fast food is an oxymoron -- two diametrically opposed realities coexisting in the same idea. However, if you are going to stop at the occasional drive-through window, there are some ways of ordering fast food that are, without question, healthier than others.
One rule of thumb in any fast food order is to avoid overeating. While larger sizes are the norm in fast food restaurants (and even movie theater food and drinks), you can always choose to eat a moderate portion or share a portion with someone else. So, eating in moderation is a good way to improve the health factor of fast food.
Another way is to avoid the sticky, gooey aspects. Don't order dessert or, if your meal comes with a syrupy, sweet drink, like a frosty, forgo it and ask instead for water.
Keep hydrated! Fast food is loaded, for the most part, with sodium. Chinese food, pizza, Mexican -- these all, as delicious as they are, have lots of salt in their flavoring. Making sure to keep drinking water, not soda, before, during and after your meal, will not only help provide that fuller feeling and assist you in eating less, it will also help your body clear out the excess sodium and actually absorb the nutrients of the food.
In recent years, McDonald's has worked hard to provide alternatives to their usual fried fare. Apples have been offered to replace french fries for children's Happy Meals, and milk and apple juice options are readily available in place of soda.
Providing your children with these foods instead of Coke and french fries is certainly a good deal healthier and, if you're setting a precedent for ordering this way even in a fast food restaurant, you may avoid their developing a link in their mind later on between fast food restaurants and fried, processed foods. That's a good thing!
McDonald's also works hard to create a good choice of salads. They offer a variety of salad options and have even, in recent years, begun offering a calorie counting chart with their menu which allows you to keep track of how many calories each of their choices contains, from the salad to the double cheeseburgers and everything in between.
Wendy's tends to be another family favorite. They also offer many varieties of salad as well as the famous baked potato with chili, broccoli and cheese and other toppings. The baked potato is a nice change and a vastly healthier option than the french fries, and these vegetable and bean toppings provide vitamins and protein in a healthy way.
Sources:
HelpGuide.org. Healthy Fast Food.
Retrieved from the internet on November 27, 2011
http://www.helpguide.org/life/fast_food_nutrition.htm
Healthy Check Systems. Healthier fast food choices.
Retrieved from the internet on November 27, 2011
http://www.healthchecksystems.com/ffood.htm
Edited by Jody Smith
Aimee Boyle is a regular contributor to EmpowHER