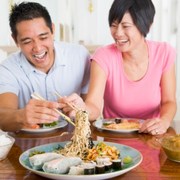 Photo: Getty Images
While many Chinese restaurants now offer a healthier selection on their menu, there's a healthier Chinese food option still, and that's to make Chinese food recipes yourself at home.
If you deconstruct your favorite Chinese food recipes you will find that you can cut calories and add nutritional value to these dishes by taking sugar out of certain sauces and adding yogurt, honey, or even orange juice instead to sweeten the sauce and reduce the calories.
Taking away breading and deep frying can also reduce the calorie count and bring back the wholesome freshness of the ingredients which are so flavorful in and of themselves.
Baking can add crispiness to the dishes you usually enjoy fried, and making certain that the soy sauce and other sauces you use are low or reduced sodium is a good way to make your favorite Chinese food healthy as well.
Lean cuts of meat, fish and loads of fresh vegetables provide a wonderful healthy stage upon which to perform your lean culinary magic.
Ordering at a Chinese food restaurant or cooking at home requires patience.
Steaming is always the healthier alternative to frying and doesn't have to mean sacrificing taste. Steamed dumplings instead of fried, steamed rice instead of fried rice and, of course, ordering or using brown rice instead of white rice is always a good, healthy Chinese food option.
Always make sure, when ordering Chinese food take-out or ordering from a restaurant, to go easy on the meat dishes and heavy on the veggie dishes. Loading up on meat can be detrimental to your health and the meat that's prepared for you in the restaurant may contain more sodium and fat than it would if you'd prepared it yourself.
As with any type of food, being careful about portions and knowing when you're full is also very important. Sometimes, especially if we're eating in a social situation such as ordering food or going out to dinner with friends and family, our appetite for food is sated but our appetite for the ambience of the dinner table is not.
If you'd like to keep enjoying the experience without overdoing it on the food, simply begin drinking water or even green tea. These fluids will help move the sodium of the meal through your system more quickly and will help you stay with the present company in a healthy way.
Sources:
Eating Well. Healthy Chinese Food and Recipes. Retrieved from the internet December 5, 2011
http://www.eatingwell.com/recipes_menus/collections/healthy_chinese_recipes
Popular Chinese Food Recipes. delish.com. Retrieved from the internet on December 5, 2011
http://www.delish.com/recipes/best-recipes/chinese-recipes
Aimee Boyle is a regular contributor to EmpowHER
Edited by Jody Smith