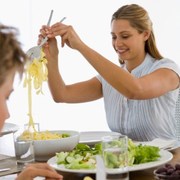 Photo: Getty Images
Healthy dinner recipes involve more than time and effort, they involve good, wholesome, nutritious food. The best way to achieve success in planning and preparing healthy dinner recipes is to:
1. Don't be too hard on yourself. Pasta does NOT have to be made from scratch to be nutritious and delicious, but you can choose whole grain over processed, white pasta, bread, rice and other grains to keep optimum nutritional value in your meals.
2. Buy healthy food as a habit when you're at the grocery store. Even if you do NOT have all of your healthy menu ideas listed and ready to go, keeping wholesome and nutritious food on hand in the cupboard and in the refrigerator will help you figure out what to make and make sure it's something good for you and your family when you put a meal together.
Some other rules of thumb include balancing healthy dinner recipes by including protein, whole grains and lots of vegetables.
While protein helps with health and feeling full, don't eat meat every day of the week. Beans, tofu, eggs, and seafood are all wonderful choices for protein. An evening omelette can contain low-fat cheese, spinach, tomatoes or whatever else your family enjoys, with potatoes or whole wheat garlic bread, you are feasting on healthy food without a doubt!
Use as many veggies as you possibly can. This means that while your family may only tolerate vegetables, giving them a side of broccoli with garlic is awesome, but "sneaking" finely chopped spinach, kale, carrots and other goodies into a pasta sauce is bellisimo.
If your family loves meat sauce, adding lean turkey or beef to the sauce as well as the secret veggies will give flavor and texture to a wonderful healthy dinner recipe. Poured over whole grain pasta -- who could ask for anything more?
Other rules of thumb when it comes to healthy dinner recipes include:
Broiling, baking and slow cooking are always preferable to frying. Deep frying in particular is not a healthy choice. The fats used for frying at that temperature are not heart-healthy, weight-healthy, or artery-friendly.
If you are going to use meat, choosing lean meat is important.
Go easy on the salt. Sodium can lead to high blood pressure and bloating, water retention and dehydration.
Slow cookers, or crock pots, are fantastic for working people and, really, anyone. You can marinate pork, beef, chicken with potatoes and vegetables the night before, then put them in the slow cooker, turn on the heat and in a matter of three or four hours, have a wonderful, fully cooked and tender meal without added fats and oils.
You can control the marinade you use. Make it orange juice and vegetable stock with honey and pepper, or just a bit of brown sugar, chicken stock and tomato puree -- the choices are endless.
For more healthy dinner recipe ideas, see the sources below. Enjoy!
Sources:
Quick and Healthy Dinner Recipes and Menus. Eating Well
Retrieved from the internet on December 29, 2001
http://www.eatingwell.com/recipes_menus/collections/quick_healthy_dinner_recipes
Healthy Recipes. Every Day With Rachael Ray
Retrieved from the internet on December 29, 2011
http://www.rachaelraymag.com/recipes/rachael-ray-magazine-recipe-search/healthy-good-for-you-recipes
Sodium Intake and Heart Disease. Smart heart living.
Retrieved from the internet on December 29, 2011.
http://www.smart-heart-living.com/sodium-intake.html
Aimee Boyle is a regular contributor to EmpowHER
Edited by Jody Smith