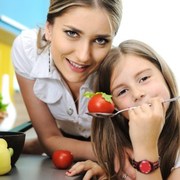 Photo: Getty Images
We all know that healthy food is important to overall good health. Physically, psychologically, emotionally and spiritually, healthy food keeps us feeling more balanced and our weight at a good level. It also keeps things like heart disease, high blood pressure, diabetes, gout and other health issues at bay and can improve the quality of our lives on many levels.
If you're unsure about healthy food, there are some excellent ways to begin learning. Essentially the premise of good eating begins with the word "whole." For starters, there are supermarkets with the word "whole." It's also used in brands of bread and foods have the word "whole" as part of their names. The importance of whole cannot be overestimated.
Whole food means that bread is made of whole wheat and will be darker, thicker and of a chewier consistency than processed white bread. Rice with whole grain is brown, as opposed to the white rice we usually cook and eat.
Whole means that we buy our vegetables when they still look like vegetables grown out of the ground or on trees. Peppers, broccoli, lettuce, squash, cauliflower, spinach and kale will be fully whole.
They come in heads or bunches and need to be cleaned and cut. When cooking them it's important not to add excessive amounts of butter, cheese or salt or letting them cook for long periods of time so that they retain their nutritional content.
Whole fruit means that our nectarines are not drowning in sugary syrup and our apples are not covered with caramel. Our bananas are not mixed with chocolate and whipped cream or on the inside of a cookie.
While there's nothing wrong with indulging, another rule of thumb about healthy food is that your every-day meals should be mostly whole grains. Whole wheat bread and brown rice, whole vegetables, like broccoli, kale, cauliflower and spinach and whole fruits such as apples, oranges, pears and nectarines and lean meats are best.
Interesting grains are excellent for fiber and variation; things like millet, quinoa (pronounced "keen-wah"), bulgar and barley are all more available than ever and are great for you.
If you are a vegetarian, ensuring you get enough protein via legumes or tofu, for example, is very important. Because our bodies are designed to metabolize the nutrients in whole food, eating more unprocessed foods will support your body's natural ability to draw iron, minerals, vitamins, protein and energy from food.
Your immune system will be bolstered and enhanced, leaving you less vulnerable to every-day colds and more serious illnesses.
Remember, anything processed, including white flour and white sugar are inherently unnecessary and unhealthy for you. This is due to the fact that they no longer contain the minerals, vitamins, fiber and antioxidants that whole food does, which makes them empty, caloric treats instead.
This doesn't mean that dessert or eating lovely, decadent food at a party will spell doom and gloom for you and yours. However, occasional indulgence is a far cry from regular ingestion of fast food, processed food and daily stops to the ice cream shop. For optimum health and well being, you'd want to try and veer toward occasional and not daily processed food indulgences.
Sources:
Healthy Choices 4 Life. Retrieved from the internet on November 27, 2011
http://www.healthychoices4life.com
http://www.healthychoices4life.com/healthy-eating-guidelines.html
United States Department of Agriculture. Develop Healthy Eating Habits
Retrieved from the internet on November 27, 2011
http://www.choosemyplate.gov/preschoolers/HealthyHabits/index.html
Health-heart.org. Good Foods. Retrieved from the internet on November 27, 2011.
http://www.health-heart.org/goodfood.htm
Aimee Boyle is a regular contributor to EmpowHER
Reviewed December 2, 2011
by Michele Blacksberg RN
Edited by Malu Banuelos